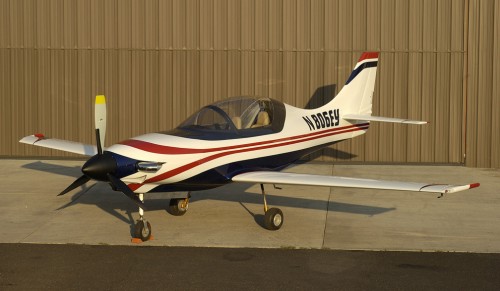 The Lancair Sentry. This Walter powered Lancair IV is a military-style tandem seat aircraft with left-side throttle controls, and a rear hinge canopy.

The aircraft was designed for military training, but is still available for the typical Lancair customer. Only the top segment of the existing Lancair IV fuselage was modified for the new Sentry, as well as portions of the vertical tail. It also offers increased yaw stability and excellent visibility out of a newly designed rear hinge canopy.
Lancair is offering rebuilt Walter 601E turbines with a TBO of 2000 hours or new with a TBO of 3000 hours. Currently we are using a prototype 82" 3-blade Hartzell propeller; however, an 84" propeller from AVIA is also available.
specifications
powerplant
propeller
length
height
wing span
wing area
seats
empty weight
useful load
gross weight
fuel capacity
range
Walter 601D 708 H.P
3 Blade, Constant Speed
26 ft


x


30.2 ft
98 sq ft
2
2200 lbs
1350 lbs
3550 lbs
125 gal.
1150 Sm
performance
takeoff distance, ground roll
rate of climb
max speed
cruise speed
landing distance, ground roll
service ceiling
1500 ft
4000 fpm
x
380 mph
1700 ft
x
limiting and recommended speeds
design manoeuvring speed (Va)
never exceed speed (Vne)
stall, power off (Vsl)
landing approach speed
x
x
74 mph
x
All specifications are based on manufacturer's calculations