Meyer's Special "Little Toot"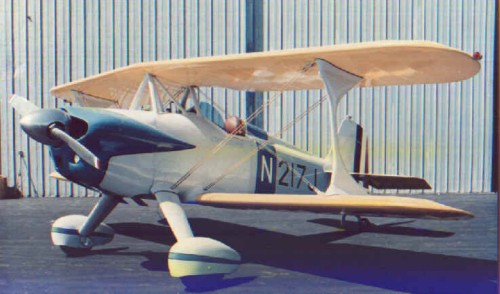 The Meyers Little Toot was considered the Cadillac of the breed. Bigger, smoother, professionally engineered, it offered the choice of either a tubing fuselage or one with an aluminium tail-cone aft of the pilot. Being bigger, and therefore, heavier, the airplane didn't perform well on the 85 hp Continentals which was considered standard-issue for sport planes. In fact, the airplane was, and is, quiet commonly seen with engines as big as 180 stuffed in it. Of all the older biplanes, the Toot had the best visibility and best ground handling manners. It was a favourite for pilots wanting to paint their airplane up in ersatz military markings because of its hawk-like appearance.
The aircraft is plans built.
specifications
powerplant
propeller
length
height
wing span
wing area
seats
empty weight
useful load
gross weight
fuel capacity
range

x


x
16'-6"
7'
19'-0"


x




x


914 lbs.
x
1350 lbs.


x


240sm
performance
takeoff distance, ground roll
rate of climb
max speed
cruise speed
landing distance, ground roll
service ceiling
x
1600

/

2150 fpm
200 Mph
135 Mph
x
x
limiting and recommended speeds
design manoeuvring speed (Va)
never exceed speed (Vne)
stall, power off (Vsl)
landing approach speed
x
x
55 Mph
x
All specifications are based on manufacturer's calculations