LongEZE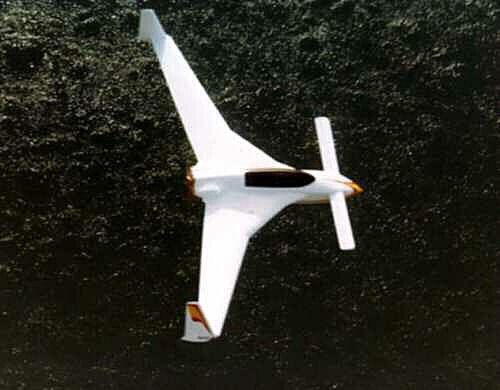 The Long EZE is a Canard-Pusher which is a larger version of the original Rutan designed VariEZE. The type is known as a Canard pusher, as the engine is at the rear pushing, and the pitch control (or elevator) is on the front wing, the canard. Burt Rutan is without question one of the greats of aircraft design, having been the first to design an aircraft to circumnavigate the Earth non-stop with no re-fuelling and the first to build a private venture successful space vehicle.
The aircraft is plans built using the Rutan composite method. This simply put, is to carve the shape of the aircraft parts in foam and then fibreglass on the outside. Many parts are still available for the design. The standard design has a retracting nosewheel and fixed main gear. At rest, the nosewheel is retracted and the nose is lowered to the ground. This prevents tipping due to the rear centre of gravity.
The aircraft is very well tested, fast, economical and a dream to fly once you get used to it. LongEZEs have flown around the World. A drawback is the limited baggage space.
Some early problems were experienced with the LongEZE design when the canard could stall when wet. This problem has been cured by fitting vortex generators. Scaled Composites no longer sell the plans for fear of law suites.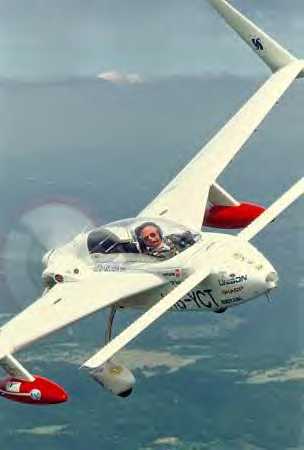 specifications
powerplant
propeller
length
height
wing span
wing area
seats
empty weight
useful load
gross weight
fuel capacity
range
Lyc. 0235 108 hp
x


x




x


26.1 ft
94.8 sqft


x


800 lb
x
1425 lb
52 gal.
1150 mi
performance
takeoff distance, ground roll
rate of climb
max speed
cruise speed
landing distance, ground roll
service ceiling
950 ft
x
193 mph
186 mph


680 ft


22000 ft
limiting and recommended speeds
design manoeuvring speed (Va)
never exceed speed (Vne)
stall, power off (Vsl)
landing approach speed
x
x
x
x
All specifications are based on manufacturer's calculations
Plans are no longer available from designer.LONGEZE