Luton Major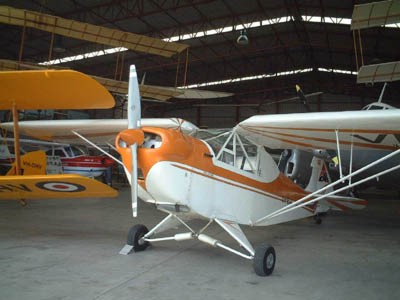 During the years 1935-1939 Luton Aircraft, UK designed and built no less than 5 types of aircraft. Having developed from the Dunstable Sailplane Company, it was perhaps inevitible that the first Luton should have been evolved from the high efficiency sailplane formula.
The Luton Minor, which flew in 1936 was an immediate success, and during the next 2 or 3 years examples were built by amateurs all over the world. In one instance an enthusiast taught himself to fly with a Luton Minor of his own construction - a procedure of course both illegal and certainly not recommended !
The design of the Luton Minor was brought up to date by Phoenix Aircraft Ltd., successors to Luton Aircraft Ltd. In 1959-60 the Minor was accredited as one of the finest single seater amateur aircraft in Europe, and the easiest to build.
The successful advent of the pre-war Minor led to the demand for a two seater having similar flying and safety characteristics : thus the Luton Major was produced to fulfill the requirements of private owners, flying Clubs and the Civil Air Guard.
Following the resurgence of the Minor, Phoenix Aircraft Ltd. undertook the revision of the Major drawings for amateur construction. Incidentally, the Luton Minor was the first Ultra Light aircraft to receive full approval by the then Director General of Civil Aviation in Australia.
The Luton Major was the only British designed two seater aircraft available to amateurs for home building. It was originally designed by Mr. C. H. Latimer-Needham to Air Ministry requirements. However the aircraft has since been re-stressed to to permit engine power to 85 hp and gross weight to 1400 lbs.
The flight characteristics, covered in the test pilot's report, may perhaps be summed up by the account given in a magazine of the time, after a trial by their pilot :
"The maker's object in providing good flying characteristics, rather than sheer performance, has certainly been achieved. The behaviour at the stall is completely without vice and unless the machine is pulled up sharply from a reasonable speed, it is not possible to stall it fully.
At an indicated airspeed between 35-39 knots there is still some lateral control and there is absolutely no tendency for a wing drop. The machine simply sits squarely in the sky and does not even drop it's nose to any marked extent. The takeoff is remarkably good and, remembering the good stalling characteristics, the machine can be made to fly just as soon as the elevators can be used to force it into the air.
The all round view is good, there is plenty of head room, the slotted ailerons are differentially operated and consequently very little rudder correction is necessary, even when using full lateral control. With ample rudder area a slide slip can be held quite steeply at a reasonably slow speed.
In another test, the Major was flown throttled right back at about 35 knots hand