Maverick (Murphy)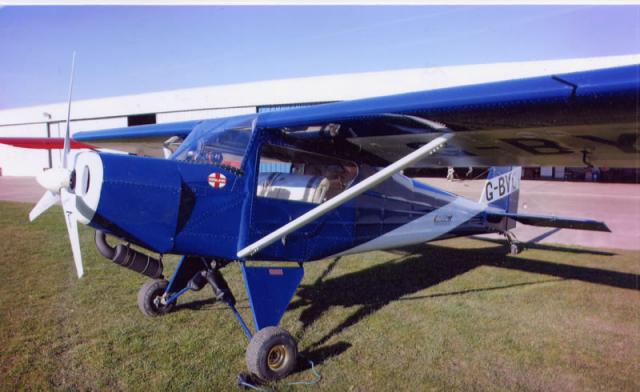 The Murphy Maverick which was introduced in 1993 is a smaller, yet different version of the Rebel using many of the same construction materials and techniques. The craft is one of the few that can be flown comfortably on the 503 Rotax engine. The fuselage is all metal, and the wing and tail sections are metal with fabric covering. Two wings are available in lengths of 29' 5" and 32' 5".

The Maverick is a side by side seating two place taildragger, in a tractor configuration. The cabin while comfortable seemed a little tight for two hefty pilots or pilots dressed for winter conditions in Canada.

The factory reports testing to +5.7 and -3.8 G's. Building times reported at just over 1,000 hours.
specifications
| | | |
| --- | --- | --- |
| | Rotax 503 Std Wing | Rotax 582 Std Wing |
powerplant
propeller
length
height
wing span
wing area
seats
empty weight
useful load
gross weight
fuel capacity
range
53 hp
GSC 68" GA


x




x




x


147sq. ft


x


395-420 lb
530-555 lb
950 lb
5 US gal
280 miles
65 hp
GSC 68" GA
x
x
x
147sq. ft
x
440-460 lb
490-510 lb
950 lb
5 US gal
264 miles
performance
takeoff distance, ground roll
rate of climb
max speed
cruise speed
landing distance, ground roll
service ceiling
150ft
600fpm
95mph
80mph
200ft
x
100ft
900fpm
110mph
85mph
200ft
x
limiting and recommended speeds
design manoeuvring speed (Va)
never exceed speed (Vne)
stall, power off (Vsl)
landing approach speed
x
120mph
32mph
x
x
120mph
32mph
x
All specifications are based on manufacturer's calculations