Mini Imp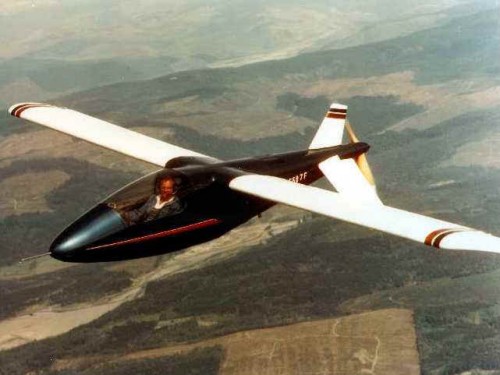 During the energy crisis of the mid 1970's Moulton B. (Molt) Taylor , designer of the certified Aerocar, the Coot Amphibian, the IMP, and many other aircraft for the US Navy during W.W.II, decided to turn his many talents to a small, easy-to-build, light plane which focused on maximum cruise speed and efficiency. The result is the Taylor Mini-IMP.
The Mini-IMP is a "second generation" version of the original, 2+2 place, Taylor IMP (an acronym for Independently Made Plane) homebuilt aircraft. This original version proved to be too complicated and too costly to build for the "average" homebuilder. Accordingly, since the IMP offered great opportunity for further simplification, and had the potential of giving performance equal to or better than some of the other "mini" designs being offered at the time, it was decided to scale the IMP configuration down to a single-place design, to design it to accommodate a great variety of engines, and to further simplify it's construction. The Mini-IMP was the result.
The Mini-IMP Aircraft Company has been formed to keep the aircraft design available, to provide builder support and to further promote this interesting aircraft design.
specifications
powerplant
propeller
length
height
wing span
wing area
seats
empty weight
useful load
gross weight
fuel capacity
range

Continental O-200, 100 hp (75 kW)


x


24 ft 6 in




4 ft 0 in




17 ft 0 in




x


1


780 lb


x


1,000 lb




x




500 miles
performance
takeoff distance, ground roll
rate of climb
max speed
cruise speed
landing distance, ground roll
service ceiling
x


1,500 ft/min




200 mph


x
x
x
limiting and recommended speeds
design manoeuvring speed (Va)
never exceed speed (Vne)
stall, power off (Vsl)
landing approach speed
x
x
x
x
All specifications are based on manufacturer's calculations