Pelican Sport 600 Ultravia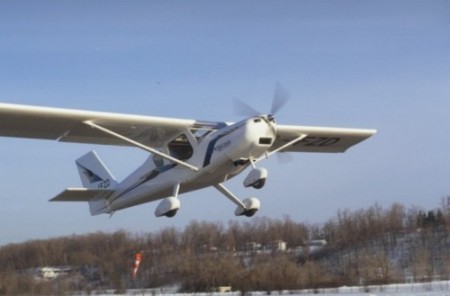 The Ultravia Pelican Sport 600 was designed according to the TP10141 Canadian design standard and the Pelican Sport fast-build kit is approved in Canada and the USA for construction in the amateur-built category. Follow the 25 week-end plan and you will enjoy a speedy and worry free building experience that ensures your success and leaves you with a quality aircraft. STOL performance, solid feel, nice cruise speed and great versatility make the Pelican Sport 600 a superior aircraft in its class.
Technical characteristics
General The Pelican « Sport 600 » is a two place single-engine, high wing airplane of conventional configuration consisting of a composite fuselage and metal wings. It is equipped with a fixed tricycle landing gear.
Engine The engine is a Bombardier-Rotax, Type 912 S, 4 cylinder, 4 stroke featuring opposed cylinders, dual electronic ignition, dry sump with oil pump, liquid cooled heads, and an integrated gearbox with torsional dampener. It is equipped with a 12V/250 Watt generator, two Bing 32 mm carburetors, a 0,6 KW electric starter and a mechanical fuel pump. The Rotax 912 S develops 98 HP at 5800 RPM at take-off and 92 HP at 5500 RPM for continuous operation.
Propeller Three-bladed, 68 inches, ground adjustable
Fuselage Vacuum molded composite structure consisting of a S-glass- vinylester resin laminate with rigid PVC foam core.
Wings and tail The all-metal wing is a single-strut, single spar construction, covered with aluminum skins. The horizontal empennage features a cantilever stabilizer structure covered with aluminum with fiberglass tips. The rudder, ailerons, flaps and elevator are skinned with aluminum.
Controls The airplane features a dual control stick system, dual rudder pedal system and differential braking system. Ailerons are deflected through a bellcrank/push-rod mechanism mounted on ball bearings. Flaps are operated by a torque tube connected to a mechanical lever in the console. Ailerons deflect 10° with full flaps (45°) . Rudder and elevators are cable operated. The elevator trim tab is mechanically operated and combined as an anti-servo tab . Fixed trims are used for the rudder and the ailerons.
Landing gear The main landing gear legs are made of heat-treated 4130 spring steel tubing. The system consists of a right and a left leg, connected by a center tube. The legs are supported by aluminum blocks bolted inside an aluminum box. The nosegear leg is made of 4130 tubing with an aluminum fork. Suspension is provided by a bungee chord. The nosewheel is steerable via push-rods connected to the pedals and it locks in flight.
Wheels & Brakes The main wheels are 5 inch Cleveland with disk brakes and 500*5 tires. The nose wheel is a 6 inch Azusa with a 13 x 600 tire.
Fuel system Fuel is stored in two 12.0 USG composite tanks located in the wings and fed to the engine via a 0.2 USG aluminum header tank located behind the seat back. All three tanks are inter-vented and each wing tank is vented to the outside.
Flaps Mechanically operated by a Johnson bar - type lever located in the console. They offer 5 positions from 0° to 45°.
Trim One elevator trim mechanically operated by a lever on the console.
Cockpit Two seats, side by side, foam seat cushions, dual sticks, dual pedals, center console, Lexan windshield and baggage compartment windows. The baggage compartment behind the seats has a capacity of 50 lbs.
Seat belts Three-point seat belt - shoulder harness system for both seats.
Engine: Rotax 912 S-UL
Propeller: Three-bladed, Warp Drive ground adjustable propeller
Optional equipment: Flight and engine instrument
Upholstery and carpet
Cabin heat and ventilation system
Nav/Strobe lights
Wheel pants
Radios
specifications
powerplant
propeller
length
height
wing span
wing area
seats
empty weight
useful load
gross weight
fuel capacity
range
Rotax 912S 98 HP
x
19 ft 11 in
8 ft 6 in
32 ft 0 in
117,3 sq ft


x


1232 lbs
x
1320 lbs


x




x

700 s.m.
performance
takeoff distance, ground roll
rate of climb
max speed
cruise speed
landing distance, ground roll
service ceiling
300-400 ft
1350 fpm
x
115 kts
x
16,000 ft
limiting and recommended speeds
design manoeuvring speed (Va)
never exceed speed (Vne)
stall, power off (Vsl)
landing approach speed
x
135 kts
45 kts
x
All specifications are based on manufacturer's calculations