Pitts S-2B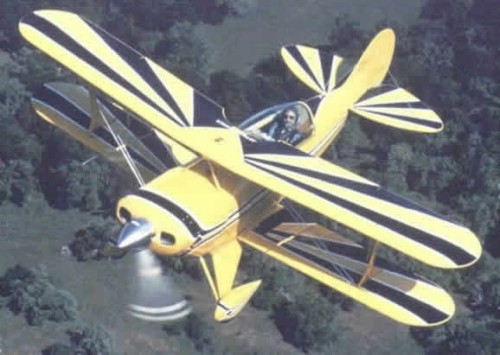 The two-place Pitts Special S-2B can be flown competitively in unlimited class competition. It is ideal for advanced aerobatic instruction and is our most popular model.
Most students who have learned in slower, less responsive aerobatic aircraft find the Pitts simply requires less work to perform manoeuvres accurately. Put simply, Pitts pilots have more fun!
The S-2B is obviously capable of highly advanced manoeuvres, yet is easy enough to fly for pilots just beginning their aerobatic training.
The S-2B has been superseded by the S-2C and is no longer in production. However, Aviat Aircraft carries a full line of original manufacturer's spare parts.
specifications
powerplant
propeller
length
height
wing span
wing area
seats
empty weight
useful load
gross weight
fuel capacity
range
Lycoming AEIO-540, 260 hp
The Claw by Hartzell, C/S, composite three-blade, 78 in dia
17' 9"
6' 5"
20'
127.5 sq ft
2
1,155 lb
545 lb
1700 lb
29 gal
284 st. miles
performance
takeoff distance, ground roll
rate of climb
max speed
cruise speed
landing distance, ground roll
service ceiling
554 ft
2,900 fpm
169 kt
150 KTAS
750 ft
x
limiting and recommended speeds
design manoeuvring speed (Va)
never exceed speed (Vne)
stall, power off (Vsl)
landing approach speed
KIAS 134
KIAS 185
KIAS 56
x
All specifications are based on manufacturer's calculations