Pulsar XP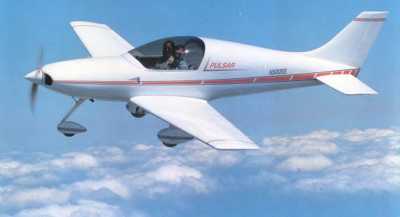 Designed and introduced in 1989 by Mark Brown, the Pulsar XP/III was an instant hit and quickly became the most popular entry level, light weight, high performance glass airplane kit in the world. More than 500 kits have been sold with over 250 already flying worldwide.
Aimed at first time builders / low time pilots, it is a superb "Builder-Friendly" airplane kit with emphasis on low parts count and ease-of-construction. Coupled with the most efficient performance numbers per horsepower (cruises at 150 mph on 80 hp engine or 206 mph with the Jabiru 120 hp or the Turbo Rotax 914.
The Pulsar XP/III has proved to be a real star, winning 1st & 2nd places in the "Sun 100" race, repeatedly. Reaching 186 mph with an 80 hp Rotax 912.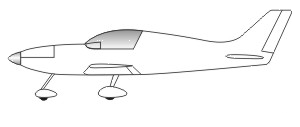 specifications
powerplant
propeller
length
height
wing span
wing area
seats
empty weight
useful load
gross weight
fuel capacity
range
912
x
20ft
5ft

11ins
25ft


80 sq ft


2
x
500lb
1100lb
28 gal


900miles
2200
x
20ft
5ft

11ins
25ft


80 sq ft


2
x
550lb
1100lb
28 gal


900miles
performance
takeoff distance, ground roll
rate of climb
max speed
cruise speed
landing distance, ground roll
service ceiling
800ft
1500fpm
160mph
150mph
800ft
x
800ft
1500fpm
160mph
150mph
800ft
x
limiting and recommended speeds
design manoeuvring speed (Va)
never exceed speed (Vne)
stall, power off (Vsl)
landing approach speed
x
x
47mph
x
x
x
47mph
x
All specifications are based on manufacturer's calculations