Super Pulsar 100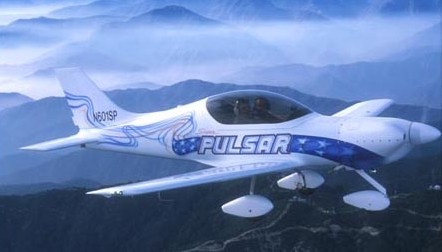 Designed around the same beautiful lines as the legendary Pulsar XP, the "Super Pulsar 100." was introduced by Pulsar Aircraft Corporation In August 2001.
A high performance sport airplane capable of cruising at speeds over 200 mph but yet docile and safe for low time pilots . It's 2500 fpm climb will leave you breathless and it's docile and slow flight stability lets you land on short fields. 38 gallon fuel capacity for seven hours of endurance and 1250 mile range.
Speaking of endurance, building the Pulsar will not test your endurance like some of the other kits on the market. with the Fast Build option You can build it in under 500 hours. All composite parts are pre-formed and hardware parts are pre-machined, leaving little to be fabricated by the builder. Fuselage shells and Vertical Fin are joined at the factory, and the Wings come Structurally assembled with fuel tank sealed. A completion stage that is unheard of in the kit industry.
specifications
length
height
wing span
wing area
seats
fuel capacity
20ft
5ft 11ins
25ft
80 sq ft


2
28 gal
Aeromaxx
Rotax
Rotax
Jabiru
Continental
Continental
Engines
100
912 S
914 Turbo
6 Cyl
*Super 200
Cont. IO-240
Gross weight (lb.)
1400
1400
1400
1400
1400
1400
Useful load (lb.)
700
650
550
700
650
600
Range @ cruise (miles)
900
900
900
900
800
800
Rate of climb-solo( fpm)
2200
1200
2000
1200
2500
2500
Top speed (mph)
215
170
208
170
225
220
Cruise speed (mph)
195
160
190
160
195
195
Stall speed w/flaps (mph)
55
52
55
55
57
57
Take off roll solo w/flaps (ft)
700
700
700
700
800
800
Landing ground roll (ft)

800

800

800

800

800