Rebel (Murphy)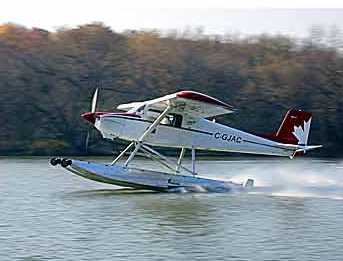 The Rebel is an all-aluminium, side by side, high wing, tail dragger with several engine options, long range cruising capability and more leg, head, and shoulder room than you'll find in any comparably priced aircraft kit. It is adaptable to oversize tires, straight and amphibious floats, as well as skis, making it the plane for all seasons, all reasons. Visibility from the Rebel is exceptional. The low profile cowling offers excellent forward visibility and the wide, outward folding door windows give a perspective of the countryside and cityscapes that turns every flight into an engaging adventure.
Combining the looks of popular classics from the 1940's with modern technology for performance, the Rebel offers pilots and passengers quick transport to the airways, river banks, lake shores, ski slopes, back country and islands in recreation country. What a great way to tour the Southwest or Northeast! What fun for exploring the Florida keys, the San Juan Islands of Washington, or the vast expanses of Canada. It's even fun in Nebraska!
With minimal effort, you can install the standard floor in the aft fuselage and use the space for sleeping, turning your Rebel into a camper. If your family expands or you want to enlarge the circle of friends you take along, you can add a third seat and take a child along, or an adult weighing up to 175 pounds.
You can do it! Building a Rebel is probably a whole lot easier, quicker, and more economical than you think. You do not need any special skills, nor any materials beyond what you can order for a kit. We've even covered all the logical options so you can get it all at once... from one source. If you have access to the space of a one car garage, and some common hand tools, you can start building. If you're willing to give it your spare time attention on a steady basis, you'll be at the flightline in less than a year.
Once there, you'll find a wonderful experience awaits you. Taking off in something you've built yourself is a thrill. When that "something" happens to be a Rebel, the thrill becomes an absolute joy.
Ground handling of the Rebel is superb due to excellent forward visibility, differential hydraulic braking, a kick-out steer-able tail wheel, and the wide-stance gear. Pour the coals to it and most people are startled to see how quickly the tail comes up (about two plane lengths) and how soon the aircraft levitates off the runway. It takes all of 175' with two people on board. Rate of climb, starting at sea level is around 1,000 fpm with the O-235 engine. There are three powerplant options, ranging from 80 to 160 horsepower. That puts cruise, at 75 percent power, in the 90 - 120 mph spectrum. Full span flaperons are responsive in slow flight, right down to stall. With a couple of notches of flap, you can cruise around for hours at 50 mph, taking in the sights below. Fly the final approach at 55 mph and expect to flare around 40. Flying a tail dragger has never been easier. Most pilots can transition from tricycle to conventional gear with a few hours of dual... something you can do in your own Rebel... before the first 40 hours are flown off.
When you're done with the fun, two people can remove the wings in about 45 minutes to 1 hour. The stabilizer and elevator fold up to accommodate the wings for trailering. In that configuration, the Rebel can be towed on its own gear for home storage or maintenance, or it can be mounted on a simple trailer for longer hauls.
Rebel Airframe
With the exception of the flaperon covering, which is fabric, the Rebel airframe is aluminium. We chose aluminium over composites, wood, as well as tube and fabric, because it has known measurable strength qualities, it stands up to ultraviolet, is generally faster to build because it's easy to work with, and it gives a nice finish to any airplane. Aluminium aircraft also have better resale value, though we doubt that consideration will come up for quite some time once you discover the benefits of owning and flying a Rebel.
Any welding required for the Rebel is done at the factory. Steel parts are powder coated to assure longevity. Aluminium sheets are pre-punched to assure correct alignment and expedite riveting. No jigs are required...just a straight, level work table.
Fuselage
The Rebel fuselage uses semi-monocoque construction. Bulkheads are stamped aluminium. The skins are .020" 6061–T6 aluminium, giving the fuselage exceptional strength. An aluminium sub-floor installed over the lower bulkhead sections provides a good base for seat mounting and, perhaps more importantly, a crushable floor for energy absorption and crash protection. Pre-bent aluminium tubing is used to frame the doors, which are covered by aluminium skins on the lower half and large Lexan windows above. Hinges across the midsection of the doors allow the large side windows to fold outward and down...even in flight. Great for summer sight seeing, or photography.
Where high strength is required, fittings are cut from 2024-T3 aluminium. For the engine mount, rudder pedals, and control column , 4130 chrome-moly steel is used. All hardware used in the fuselage and wings is AN spec aviation hardware.
There are no "left" & "right" fuselage sides- and no "top" & "bottom" either! All 4 panels are identical, eliminating any chance for confusion. Also, all of the corner-wrap sections have the same radius, and are interchangeable. This commonality of parts makes for much easier building.
Six inch wheels with high profile tires are standard for the Rebel, giving it rough field and river bed landing capability. The standard bungee suspension provides excellent shock absorption. An optional aluminium spring gear is available, reducing drag and smoothing out off-airport landings. Murphy 1500 and 1800 Series straight floats, and amphibious floats are also available. The Rebel also flies and lands beautifully on skis.
The Cabin
Spacious is the word for it. The wide doors and track mounted seats were designed to allow big, tall people easy access to the cockpit. Unless you can make Michael Jordon look short, you'll be able to run the seats back to the point that your legs fall short of the rudder pedals. Same thing applies to headroom. The doors of the Rebel are four inches farther apart than a Cessna 172. So there's plenty of shoulder and hip room. The seats are designed for long cross country endurance and offer exceptional comfort as well as freedom of movement. As noted earlier, a third "sideways" seat is available for positioning behind the two front seats. This optional seat can carry a child or an adult weighing up to 175 pounds. The seat can be removed to increase the capacity of the enormous cargo area.
The instrument panel is wide and has a wrap-around look that makes checking instruments very convenient. There's enough room to accommodate a full IFR panel. There's plenty of room for personalizing your Rebel panel. Wiring the Rebel for night flying is easy.
Fuel read outs are accomplished by looking at clear sight tubes that are mounted in front of the root rib and give instant, accurate indications, at a glance, of fuel on board.
Visibility, as we've said, is extraordinary. In addition to the sights provided by the standard blown, one-piece windshield and the two fold-down windows mounted in the doors, it's possible to add up to six skylight ports in the ceiling. If that isn't enough, fly your Rebel without the doors... the aircraft doesn't seem to know the difference... but you sure will.
Optional vacuum formed interior panels will add to the finished appearance and reduce noise levels in your Rebel.
Wings
There are three spars , 14 nose ribs and 13 main ribs in each wing, which are all covered with three sheets of pre-punched aluminium sheet. Pre-formed leading edge material covers the nose ribs creating a D-Cell, which ties into a box section that is formed by the main ribs and upper and lower skins. This results in exceptional strength. 12 full-length extruded stringers help stiffen the skin against torsion and shear loads. The wing is joined to the fuselage by extra heavy fail-safe 2024-T3 aluminium fittings. A single streamlined, custom extruded strut is used for high strength and low drag. Wing tips are gel coated fibreglass.
The Rebel features "wet" wings for fuel storage. Two 22 (U.S.) gallon tanks are standard, giving the Rebel considerable range, even with the larger engines.
Controls
The control system on the Rebel uses push-pull tubes connected to a massive 2-inch torque tube which operates the full span flaperons. This results in swift and accurate response to control input. The flaperons are lowered with a mixer box controlled by a teleflex cable and flap lever which has been placed within easy reach of the pilot. Flaperons have the advantage of being lowered in 6 degree increments to a maximum of 18 degrees and can be put into a 5 degree reflex position to increase cruising speed and give a smoother ride, thus giving the Rebel a very large flight envelope.
Tail Group
A simple box design, utilizing pre-bent channels, covered with aluminium skins forms the vertical and horizontal surfaces of the tail. The horizontal members fold upward for storage or transport and are braced in flight position by small aluminum struts.
The elevator and rudder are controlled with 1/8-inch stainless steel aircraft cable. For elevator control these cables are attached to dual push-pull tubes.
| | | | | |
| --- | --- | --- | --- | --- |
| | O-320 | 0-235 | 912 | 912-UL * |
| Horsepower | 160 | 116 | 80 | 80 |
| Power Loading (lb./hp) | 10.3 | 14.2 | 18.1 | 13.2 |
| Gross Weight (lb.) | 1650 | 1650 | 1450 | 1057 |
| Empty Weight (lb.) | 950 | 900 | 700 | 650 |
| Useful Load (lb.) | 700 | 750 | 750 | 407 |
| Wing Area (sq. ft) | 150 | 150 | 150 | 150 |
| Wing Loading (lb./sq. ft) | 11.0 | 11.0 | 9.7 | 7.0 |
| Rate of Climb @ Gross (ft/min) | 1200 | 800 | 500 | 800 |
| Climb Speed (mph) | 65 | 65 | 60 | 60 |
| Take Off Run (ft) | 300 | 400 | 450 | 300 |
| Landing Roll (ft) | 400 | 400 | 300 | 200 |
| 50' Obstacle Clearance (ft) | 533 | 754 | 976 | 626 |
| Stall (No Flap) Power Off (mph) | 44 | 44 | 40 | 36 |
| Stall (FULL FLAP) Power On (mph) | 40 | 40 | 36 | 34 |
| Cruise (65% POWER) (mph) | 120 | 105 | 80 | 85 |
| Vne (mph) | 151 | 151 | 143 | 143 |
| Top Speed (mph) | 140 | 125 | 100 | 110 |
| Fuel Burn (gal/hr) | 7 | 6 | 4 | 4 |
| Fuel Capacity (US gal) | 44 | 44 | 44 | 22 |
| Range (hrs) | 6.1 | 7.6 | 11.0 | 5.5 |
| Range (statute miles) | 733 | 797 | 880 | 468 |
| G Limit (Ultimate) | +5.7 -3.8 | +5.7 -3.8 | +5.7 -3.8 | +5.7 -3.8 |