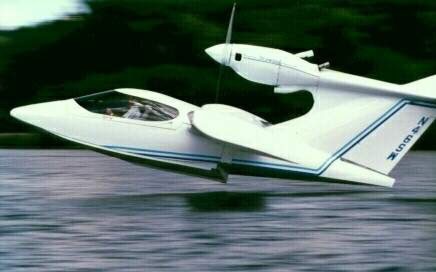 The Seawind Aircraft is a perfect union of form and function. The sleek flowing lines make it the most striking of land or seaplanes. We have developed the world's best and fastest four/five place amphibian.
The spacious cabin, panoramic view, quiet environment and form fitting seats all combine to create total travelling comfort. The spacious cabin accommodates four executives or a family of 5 with three children. Whether your mission is cross country travel or a business trip to the city, Seawind does it all—fast.
The structural integrity and versatility of a high performance amphibian make the Seawind the go-anywhere aircraft.
The cost of the Seawind is comparable to any four-place land plane despite its superlative structural integrity.
Flight Characteristics
LAND TAKEOFF: The Seawind 300C accelerates quickly down the runway. At 70 MPH, a one hand rotation is applied and the craft lifts off between 70 and 80 MPH.
CLIMB: With the landing gear retracted and the flaps set to zero, the Seawind 300C will climb dramatically to altitude.
CRUISE: The cruise configuration is with flaps reflexed to -10°. Once trimmed straight and level, the Seawind 300C is truly a hands off machine
LAND LANDINGS: Landings on land are normal with a gear down speed of 140 MPH maximum, and a flap down speed of 120 MPH. The pattern speed is 90 to 100 MPH with flaps at 20° as you apply a little up trim to what feels naturally comfortable. Full flaps are applied and propeller set to high RPM on the final leg with the speed at 90 MPH. After crossing the threshold at 80 MPH, flare to a touchdown speed of between 65 to 70 MPH.
WATER LANDINGS: Landings on water are virtually the same as land landings except, of course, the landing gear is up. Final approach is at 90 MPH, with full flap, at high RPM. A few feet above the water, the Seawind 300C is leveled and slowed to 80MPH and the nose is raised to about four degrees. Throttle back and the Seawind 300C lands on the step at 65 MPH.
STEP TAXIING: Step taxiing can be performed with full flaps or reflexed flaps. The time onto the step is a couple of seconds quicker with zero flaps. The wings are held level and steering is performed with the air rudder.
WATER TAKEOFF: Water takeoffs are comfortable. The Seawind 300C rises onto the step virtually by itself. A bit of up elevator is applied as the bow wave moves by. The controls are then relaxed and with full flaps at 62 MPH, the Seawind 300C flies itself off the water.
TURNS: Like any amphibian of high thrust line aircraft, turns should be coordinated with rudder and ailerons.
PITCH CONTROL: The Seawind 300C has superb pitch control. A full power go around just above the water is easily executed with one arm pull back. The nose will not drop.
CROSS WIND LANDINGS: Carry a little power in a cross wind landing to make the air rudder more effective. Idling the power tends to block the flow over the air rudder. So, apply just a little power.
STALLS: Stalls are gentle and straight ahead, with a warning buffet.
Avionics: There are three avionics packages available. The basic VFR system is comprised of a UPS Apollo audio with intercom, GPS/COM and mode C transponder, built-in electronic location transmitting beacon-ELT. All antennas are built-in. See "Options" for other avionics and autopilot packages.


Lighting: The basic aircraft is equipped with all lighting required for night and instrument flight including:
Dual landing lights

Whelan nav/stobe lights

Cabin dome, map and panel lights

Special Equipment: Each Seawind 300C is equipped with the following special equipment:
Condition warning system which monitors:

i. Power plant overheat or fire sensor
ii. Fuel or flammable vapour detector
iii. Water in bilge sensor
Automatic bilge pump with manual bypass
Seawind 300C Optional Equipment

The following options will be available at additional cost:

Airframe optional exterior paint detailing in your choice of select colours.

Hydraulic assist nose wheel steering. This independent system will steer the Seawind by the push of a switch or manually by differential braking or both.

Inboard/outboard water motor. This special design gas fired water-cooled motor is mounted in the nose compartment and is lowered through the hull bottom. It will move the Seawind forward, aft, or to the side at speeds up to 4 to 6 knots with the big Lycoming engine shut down.

Seawind 300C Optional Avionics
The Seawind will be available with a variety of avionics. Although the UPS Apollo system is featured, other equipment such as Garmin or King will be available.

The VFR package includes a UPS/Apollo audio intercom, GPS/Com and Mode C transponder

Advanced IFR Avionics Package
The airframe will include built-in certified lightning protection.

The full UPS Apollo IFR radio stack with audio intercom, full color MX20 MOVING MAP, GPS/COM, Nav/Com with glide slope and mode C transponder installed.

Autopilot: Century autopilot with yaw damper, altitude hold and tracking is available.

B.F. Goodrich storm scope.

Glass Cockpit
The Seawind 300C is slated for a state of the art glass cockpit that will feature Avidyne. Full colour moving map system and EFIS.
specifications
powerplant
propeller
length
height
wing span
wing area
seats
empty weight
useful load
gross weight
fuel capacity
range
Lycoming IO-540 300HP
Constant Speed Hartzell 3 blade 76"
27 ft. 2 in.
10 ft. 2 in.
35 ft.
160 sq.ft.
2
2300 lbs.
1100 lbs.
3400 lbs.
74 US gals. +
980 miles
performance
takeoff distance, ground roll
rate of climb
max speed
cruise speed
landing distance, ground roll
service ceiling
870 ft. land 1100 ft. water
1250 fpm
200 mph
191 mph
x
20,700 ft
limiting and recommended speeds
design manoeuvring speed (Va)
never exceed speed (Vne)
stall, power off (Vsl)
landing approach speed
x
x
72 mph
x
All specifications are based on manufacturer's calculations