Sonerai 1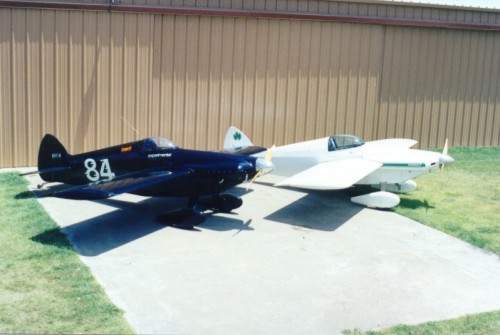 The Sonerai I is a mid-wing sport plane, racer, designed to meet all Professional Race Pilots Association (PRPA) and Formula Vee Racing requirements for 1600cc Volkswagen powered aircraft. The Sonerai I will accept engine displacements from 1600cc through 2180cc.

The Sonerai I uses a minimum of different sizes of tubing to reduce the cost, without hampering the integrity of the design. The wing is all aluminium and is composed of two panels that fold along side the fuselage, enabling the Sonerai I to be towed tail first on it's own gear.

Stainless steel cherry rivets are used to skin the wing. The fuselage and tail surfaces are constructed of standard sizes of 4130 steel tubing that are fabric covered. All aluminium sheet used is 2024-T3 .025" except for the spars which are .040". The fibreglass cowling removes easily to allow complete access to the engine, magneto, tank and instruments. The landing gear is manufactured from 1/2" x 5" 2024T-351 aluminium. The Sonerai I features an 11 gallon tank.
specifications
powerplant
propeller
length
height
wing span
wing area
seats
empty weight
useful load
gross weight
fuel capacity
range
VW / 70 hp
x
16.67 ft.


x


16.67 ft.
75.00 sq. ft.
1
440 lbs
260 lbs.
700 Ibs.
16 gal.
300 sm
performance
takeoff distance, ground roll
rate of climb
max speed
cruise speed
landing distance, ground roll
service ceiling
600 ft.
x
x
150 mph
800 ft
10,000 ft.
limiting and recommended speeds
design manoeuvring speed (Va)
never exceed speed (Vne)
stall, power off (Vsl)
landing approach speed
x
225 mph
45 mph
x
All specifications are based on manufacturer's calculations