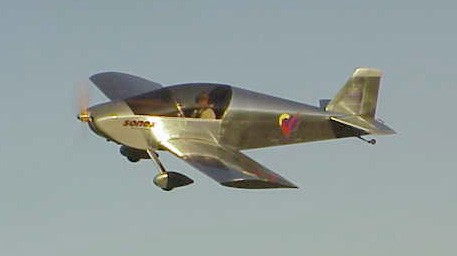 SONEX is a basic and economical all metal two place monoplane. Designed to meet the needs of the European and Domestic sport aircraft markets, it can incorporate various light weight contemporary engines of 80 to 120 hp (engine package weight of less than 200 lbs.) The three recommended powerplants include the 2180cc Volkswagen, 2200 Jabiru, and 3300 Jabiru. Outstanding performance is achieved through its clean aerodynamic shape and simple, light weight construction.
The Sonex Plans contain many options, including a tailwheel or tricycle landing gear along with a center or dual stick. Motor Mount drawings are supplied for all three recommended powerplants.
Sonex is now available as one of the most complete kits in the industry. The new Sonex Kit includes all of the previous "Easy-Build" options along with pre-formed wing ribs, fuse formers, and control surface ribs. Using the new Sonex Kit, you can complete your own Sonex for between $18,000 and $26,000 including engine, upholstery and instruments! It is also still possible to build from Scratch using only the "bare essentials".
specifications
powerplant
propeller
length
height
wing span
wing area
seats
empty weight
useful load
gross weight
fuel capacity
range
80 hp Jabiru
x
17' 7"


x


22'
98.0 sq. ft.


x


580 lbs.
x


x


16 Us Gal.
475 miles
120 hp Jabiru
x
17' 7"
x
22'
98.0 sq. ft.
x
620 lbs.
x
x
16 Us Gal.
425 miles
performance
takeoff distance, ground roll
rate of climb
max speed
cruise speed
landing distance, ground roll
service ceiling
300 ft
x
150 mph
110 mph
500 ft
x
200 ft
x
70 mph
135 mph
500 ft
x
limiting and recommended speeds
design manoeuvring speed (Va)
never exceed speed (Vne)
stall, power off (Vsl)
landing approach speed
125 mph
197 mph
46 mph
x
125 mph
197 mph
46 mph
x
All specifications are based on manufacturer's calculations