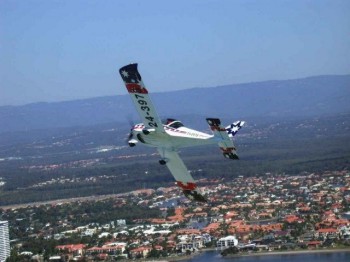 The SportStar is a Light Sport Aircraft (LSA) designed for pilot training, sport and leisure flying and touring with limitation to non-aerobatic VFR operations. The plane meets the Sport Pilot Light Sport Aircraft regulations.
Today the SportStar flies in USA, Canada, Australia, South America and together with its European version Eurostar in more than 30 countries all around the world.
The SportStar is aerodynamically controlled, single-engine, two-seat, low-wing, all metal plane with a fixed tricycle undercarriage and controllable nose wheel. The aircraft is equipped with four cylinder four stroke 80 HP Rotax 912 UL engine, optionally 100 HP Rotax 912 ULS.
specifications
powerplant
propeller
length
height
wing span
wing area
seats
empty weight
useful load
gross weight
fuel capacity
range
80 HP Rotax 912 UL or 100 HP Rotax 912 ULS.
Fixed, on-ground adjustable
19 ft 7 1/2 in
7 ft 8 in
28 ft 7 in


x




x


668 lb
544 lb
1212 lb
17.2 Usgal
350 NM
performance
takeoff distance, ground roll
rate of climb
max speed
cruise speed
landing distance, ground roll
service ceiling
560 ft
840 ft/min
x
110 KCAS
540 ft
13100 ft
limiting and recommended speeds
design manoeuvring speed (Va)
never exceed speed (Vne)
stall, power off (Vsl)
landing approach speed
x
146 KIAS
44 KCAS
x
All specifications are based on manufacturer's calculations