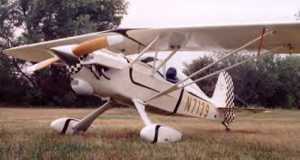 A 1970 follow-on to Stolp's highly successful Starduster biplane series, the Starlet was aimed at a specific market niche -- customers seeking the Stolp experience, but through a simpler design and construction process, i.e., eliminate the lower wing and step down in horsepower. The resulting single place, high wing parasol got the builder into the air faster, with more dough left in his pocket, and with a sturdy airplane that was just as comfortable operating on rough turf as it was on paved runways.
Optimum engine is the 108 HP Lycoming; however, engines of 85 HP to 125 HP may be used. The Starlet will fly well with Rotax, Subaru, Suzuki, or Continental engines.
specifications
powerplant
propeller
length
height
wing span
wing area
seats
empty weight
useful load
gross weight
fuel capacity
range
Lycoming O-235-C-1, rated at 108 hp
McCauley metal propeller
17 ft.
5 ft. 10 in.
25 ft.
83 sq. ft.
1
650 lbs.
x
1,000 lbs.
22 gal.
300 miles with reserve
performance
takeoff distance, ground roll
rate of climb
max speed
cruise speed
landing distance, ground roll
service ceiling
300 ft.
x
x
100 mph
400 ft.
15,000 ft.
limiting and recommended speeds
design manoeuvring speed (Va)
never exceed speed (Vne)
stall, power off (Vsl)
landing approach speed
x
180 mph
60 mph
80 mph
All specifications are based on manufacturer's calculations