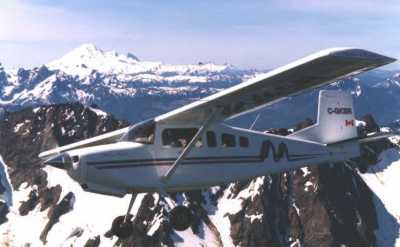 Murphy Aircraft recently invaded the marketplace for fast build kits with their fast build 4 to 6 seat Super Rebel, one of the most impressive load carrying kit aircraft around. Transport Canada awarded the new Fast Build Super Rebel its official blessing by approving it under the 51% ruling.
The Fast Build Super Rebel looks like an airframe ready for finishing when you receive it. With the stabilizer, elevator, rudder, fin, both ailerons and flaps all pre-assembled and ready for final closure, your first flight is not too far away. The wings arrive with the spars built and ribs installed, top skins riveted in place, fuel tanks sealed and pressure tested and the bottom skins drilled, deburred and ready for closure.
The fuselage is ready to stand on its gear, with the tailcone complete and riveted to the cabin shell. The cabin has the gear mounting carry-throughs and floor longerons all installed and secured. Add the gear legs, bolt on the wings and tail and you're all set for a hangar flight!
Two major added benefits of these fast build kits is full corrosion protection and the use of solid rivets. All parts are painted with zinc chromate, enhancing the corrosion resistance and all Fast Build Super Rebel's come solid riveted. The use of solid rivets is something many first-time builders would like, but tend to shy away from. These two features will certainly increase the aircraft's resale value down the road.
The first Fast Built Super Rebel has already been shipped to a Montana customer who is looking at installing the Russian built M-14P radial engine. Murphy Aircraft has recently announced that the Super Rebel was undergoing structural testing to both increase the gross weight and adapt this popular 360 h.p. radial engine. "Our goal is to market a complete package; airframe, radial engine and amphibious floats, all in one competitively priced kit," said Darryl Murphy.
specifications
powerplant
propeller
length
height
wing span
wing area
seats
empty weight
useful load
gross weight
fuel capacity
range
200 hp
x


x




x




x


182 sq ft
2
1400-1500 lbs
1500-1600 lbs
3000 lbs
60 US gal
705 miles
250 hp
x
x
x
x
182 sq ft
2
1450-1650 lbs
1350-1550 lbs
3000 lbs


80

US gal


x

855

miles
performance
takeoff distance, ground roll
rate of climb
max speed
cruise speed
landing distance, ground roll
service ceiling
700 ft
800 fpm
145 mph
132 mph
500 ft
x
600 ft


1100

fpm
160 mph


150

mph
500 ft
x
limiting and recommended speeds
design manoeuvring speed (Va)
never exceed speed (Vne)
stall, power off (Vsl)
landing approach speed
x
177 mph
52 mph
x
x
177 mph
52 mph
x
All specifications are based on manufacturer's calculations