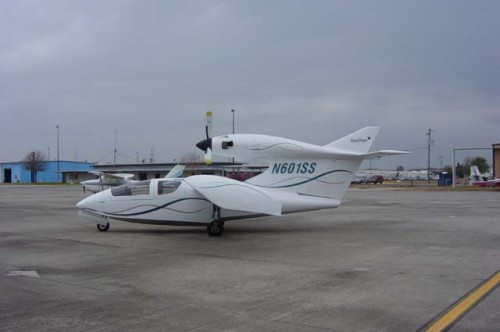 A new generation seaplane kit, the Sea˜Star, is now available. The Sea˜Star is being developed using the information and experience gained from previous designs. It is the intent of the developers to exploit the recent developments in technology to produce a product that is state-of-the-art in terms of aircraft design, performance, quality, materials, manufacturing methods, and fabrication techniques.
This aircraft is not a product of thirty to fifty year old technology and primitive construction techniques but it truly represents the state-of-the-art in all aspects. As a result no other aircraft certified or kit even comes close in terms of quality and performance.
Engineering and technology are dynamic. Design and manufacturing methods have been expanding at an ever-faster rate during the 1990's. Usually, in order for a company to be successful in any market it is necessary to continuously improve their products and processes through research and development. One of the first steps in the process is to acknowledge that improvement is possible. No technical design in history is optimum when it first comes off the drawing board or the CAD/CAM systems these days.
specifications
| | | |
| --- | --- | --- |
| | Sea Star 350 Lycoming | Sea Star 657 Walter |
p

owerplant
propeller
length
height
wing span
wing area
seats
empty weight
useful load
gross weight
fuel capacity
range
350 HP Lycoming
MT 4 blade w/reverse


x


11'


x


38.00 ft


x


2500-2950 lbs
1650-2100 lbs
4600-5000 lbs


100 US Gal. 40 US Gal. aux


1399 mi
657HP Walter
Avia 3 blade w/reverse
x
11'
x
38.00 ft
x
2500-2950 lbs
1650-2100 lbs
4600-5000 lbs


160 US Gal.

80 US Gal. aux
1385 mi
performance
t

akeoff distance, ground roll
rate of climb
max speed
cruise speed
landing distance, ground roll
service ceiling
900 ft land
1400 fpm
183 kts
177kts
x
23,000 ft
770 ft la

nd


2000 fpm
222kts
216kts
x
23,000 ft
limiting and recommended speeds
design manoeuvring speed (Va)
never exceed speed (Vne)
stall, power off (Vsl)
landing approach speed
x
x


52kts


x
x
x


52kts


x
All specifications are based on manufacturer's calculations