Tango 2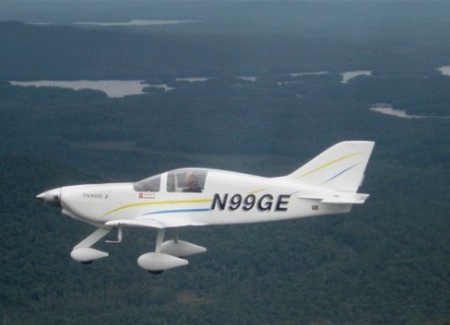 For pilots looking for an unmatched combination of cruise speed, range and density-altitude performance in a safe, sleek, roomy, affordable, two place aircraft. This combination is one-of-a-kind in the industry and the benefit to you is outstanding value.
In our unique Builder's Centre program you can build your airframe, ready for firewall forward and instrument panel as little as 30 days. This is not just hype, it has been done. Simplicity of construction is one of the hallmarks of the engineering behind the Tango concept.
Cruise speeds of up to 210 mph and a range up to 1,000 miles makes the Tango a productive and exciting aircraft to own.
The stall speed of 60 mph and docile basic flight characteristics makes it a safe and attractive entry-level aircraft.
Typical takeoffs between 450 to 600 ft. and initial climb over 3,000 feet per minute make it a blast to fly.
The low parts count, fixed gear, builder's centre option, and low drag design make the Tango SIMPLY FAST.
specifications
powerplant
propeller
length
height
wing span
wing area
seats
empty weight
useful load
gross weight
fuel capacity
range
180hp
x
20.7 ft


x


25 ft
75 sq ft


x


1075 lb
x
1850 lb
40 US gal
1000 miles
performance
takeoff distance, ground roll
rate of climb
max speed
cruise speed
landing distance, ground roll
service ceiling
x
1800 fpm
220 mph
200 mph
x
24000 ft
limiting and recommended speeds
design manoeuvring speed (Va)
never exceed speed (Vne)
stall, power off (Vsl)
landing approach speed

145 mph


245 mph
60 mph
x
All specifications are based on manufacturer's calculations