Turbi by Roger Druine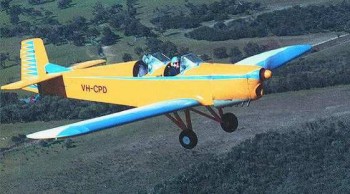 Climb is at 50 to 55 k and approach about the same but on a calm day you can get down to 45 k on approach.

Construction Notes:
The spar is from laminations of 14mm thick by 50mm wide. There are 5 laminations on the top section of the spar and 4 on the lower. They taper out to about 8mm at the tip. To make the curved spar (curved in the centre) I laid blocks of wood screwed and glued to a wooden bench.

When both top and bottom sections of the spar were made and tapered, they were separated and then covered with 2.5mm ply which is laid on at 45 degrees (there is really no waste of material doing it that way). Many clamps were used to glue and several splices had to be made over the length of the wing (28' 6") The rear spar is simpler and made in the same jig. It is covered on one side only with 2mm ply. Ribs are then put on the spars.

Flight Characteristics:
Plane has large friese ailerons and fixed slots in the wings. The plane is very safe to fly and stalls indicated at 28 knots and lands at about 35 knots. All who have flown it praise its qualities.
specifications
powerplant
propeller
length
height
wing span
wing area
seats
empty weight
useful load
gross weight
fuel capacity
range
Gypsy Minor Horsepower: 80
x
25' 9"


x


28' 6"
142 sq. feet
2
x
x


x




x




x
performance
takeoff distance, ground roll
rate of climb
max speed
cruise speed
landing distance, ground roll
service ceiling
x
x
107 mph
98 mph
x
x
limiting and recommended speeds
design manoeuvring speed (Va)
never exceed speed (Vne)
stall, power off (Vsl)
landing approach speed
x
108 mph
32 mph
x
All specifications are based on manufacturer's calculations