Ullman Panther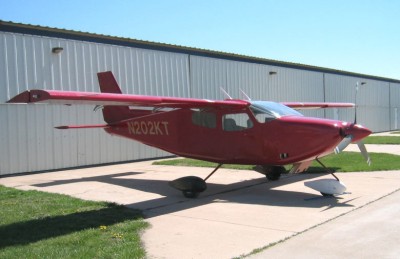 At AirVenture 99 in Oshkosh, Wisconsin, the Ullmann Aircraft Company announced the development of its new Panther kitplane. The Panther is an all metal, four-place, high-wing, high performance (200 knot cruise), fixed gear aircraft. The Panther is designed from the ground up to satisfy the FAA's FAR 23 certification standard in the normal category (positive 3.8 g to negative 1.52 g)
The design team members are all aviation industry veterans from companies such as Cessna, Lear, Raytheon Aircraft, and Boeing. Collectively the team has 151 years of experience in the design and testing of certificated aircraft. Their experience combined with the known properties of all-metal construction, has produced a unique aircraft that combines power, comfort, and flexibility.
For a serious cross-country airplane, speed is an essential attribute. The Panther is designed for speed. You will be able to cruise to your destination in car-like comfort at 200 knots (230 mph) in the new high-wing, four-place, high-performance Panther.
In addition to its speed, the Panther has been designed to meet FAA Part 23 certification standards by our team of professional engineers. Kits will be delivered only after we have conducted structural and flight testing of the Panther. The Panther uses a space-frame welded steel truss to surround the passenger compartment and provide additional strength and safety.
The Panther has been designed to have superb handling characteristics (Class 1 on the Cooper-Harper Scale – the highest possible rating). This prediction has been confirmed by extensive wind tunnel testing at the Walter Beech Memorial Wind Tunnel at Wichita State University.
All Panther kits have been designed to take full advantage of the FAA's 51% rule and minimize the assembly labour. The steel space-frame truss and the engine mount arrive completely welded and finished. The airframe components will be preformed, the skin panels will be precut, and all will be pilot drilled in precision factory jigs. The wing leading edge (which includes the integral fuel tank) comes completely assembled.
specifications
powerplant
propeller
length
height
wing span
wing area
seats
empty weight
useful load
gross weight
fuel capacity
range
TCM IO-520-L or IO-550-L
x
25 ft, 9 i

ns


9 ft, 7 i

ns


34 ft, 2 i

ns




x




x


x
1,010 lbs.
3,050 lbs.


x


800 nm
performance
takeoff distance, ground roll
rate of climb
max speed
cruise speed
landing distance, ground roll
service ceiling
x
x
x
200 KTAS
x
x
limiting and recommended speeds
design manoeuvring speed (Va)
never exceed speed (Vne)
stall, power off (Vsl)
landing approach speed
x
x
58 KTAS
x
All specifications are based on manufacturer's calculation