Tecnam P92 Echo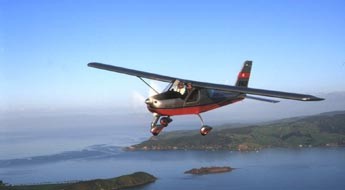 Ease of inspection; immediate access for servicing that is efficient and inexpensive at the same time. The comfort of the controls, the high roll rate and well-matched stick force allow for pleasant flight and easy manoeuvring even in demanding situations. A marked longitudinal stability allows for prolonged stick free flying.

All load-bearing structures are light alloy and built to meet International Standards of Air navigation.
Flight controls are traditional type with dual stick, dual rudder pedals and dual throttle knobs on dashboard. Longitudinal trim and electrical flap controls with position indicators are also located on dashboard.
Instrument panel meets General Aviation standards both in size and quality allowing for installation of a wide variety of flight instrumentation inclusive of IFR, engine controls and com/nav apparatus.
Main gear features steel springs while nose gear features a steerable wheel with rubber damper. Specifically designed wheel fairing complete their efficiency.
Wing profile and tips feature new design and meet requirements for added speed.
New engine cowling, greater windshield slope and new fairing that joins harmoniously the cabin area with the vertical tail tangibly reduce aerodynamic drag.
Rear visibility is improved with the addition of a third window on the aft fairing.
The cabin features a wide windshield with view unhindered by structural elements. Visibility while turning is also improved by the tapering of the inboard wing roots. Doors feature elbow housings for added comfort and allow for easy access to cabin. Side-by-side seats are adjustable and feature three point attachment safety belts.
Engine cowling is made up two parts and allows for quick and complete opening.
Fuel tanks are integral part of the wing structure and feature 35 or 50 litre capacity per each half wing. Fuel feed is via an engine driven pump.

ENGINE IS FOUR STROKE, FOUR OPPOSING CYLINDERS
AUTOMOBILE GRADE FUEL
* ROTAX 912 S - 73,5 kW (100 hp) REDUCTION GEARBOX 1:2,428
| | | | |
| --- | --- | --- | --- |
| | SLA | Group A | Group A |
| Engine options | Jabiru 2200 | Rotax 912 | Rotax 912 S |
| Power (at max rpm) | 80 PS | 81 PS | 100 PS |
| Propeller (Tonini) GT | 157 x 100 | 166 x 146 | 172 x 164 |
| Fuel capacity | 70 ltr | 70 ltr | 70 /100 ltr |
| Design mtow (+6/-3g) | 550 kg | 550 kg | 550 kg |
| Operational mtow | 450 kg | 450 kg | 500kg |
| Empty weight | 264 kg | 281 kg | 306 kg |
| Max speed | 113 kt | 118 kt | 125 kt |
| Cruise @ 75% | 95 kt | 95 kt | 105 kt |
| Vne | 140 kt | 140 kt | 140 kt |
| Rate of climb | 1,000 fpm | 1,080 fpm | 1,260 fpm |
| Stall, with flap | 33 kt | 33 kt | 33 kt |
| Service ceiling | 13,000 ft | 13,000 ft | 14,800 ft |
| Take-off to 50 ft | 650 ft | 650 ft | 590 ft |
| Landing run | 330 ft | 330ft | 360 ft |