Vans RV7/7A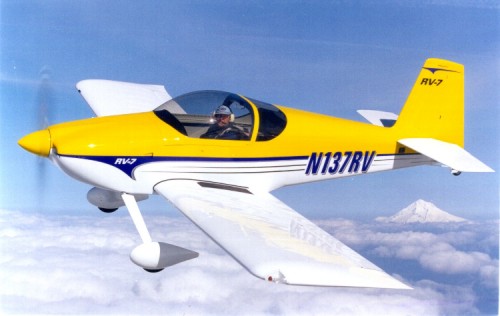 The RV-7/7A is designed for much the same mission as the RV-6/6A. However, it will accept Lycoming engines from 150-200 horsepower, giving the builder more options. It uses many parts in common with the RV-8/8A and RV-9A, which keeps production and inventory costs down. Legroom, headroom, and useful load are all greater than the RV-6/6A. The span and area of the wing has been increased. The Vne (never exceed speed) has been increased to 230 mph. Fuel capacity went from 38 gallons to 42.
But the biggest difference is the kit. The RV-7/7A kit is the most highly advanced kit Vanís has produced, and maybe the easiest to build. Computer aided design and computer controlled production tools mean that the parts fit exactly as they should. Traditionally, the task of locating, aligning, drilling and preparing the thousands of rivet holes has fallen to the airplane builder. Itís not particularly difficult, but it is repetitious and there are many opportunities for error. In the "matched hole" RV-7/7A kit, a computerized punch press locates and punches all the rivet holes during manufacture, so the builder can pull the parts out of the box, align the holes and begin assembly immediately.
Many improvements have been incorporated into the RV-7/7A kit: pre-fabricated wing spars are standard, canopy frames are stiffer and more accurate, internal structure has been simplified...the list goes on and on.
We estimate the construction time for the RV-7/7A kit at about 13-1400 hours, or about 30% less than an RV-6/6A.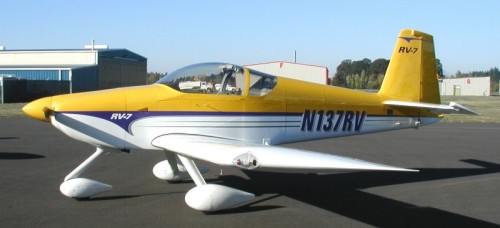 Exterior Dimensions
Span
25 ft 0in.
Length
20 ft 4 in.
Height
5 ft 10 in
Wing Area
121 sq ft
Weights
Empty Weight
1061 - 1114 lbs
Gross Weight
1800 lbs
Loadings
Wing Loading
14.8 lb/sq ft
Power Loading
12.0 - 9.0 lb/hp
Powerplant/Systems
Engine
150-200 hp
Propeller
Fixed or C/S
Fuel Capacity
42 US gal
Other
Baggage
100 lbs
RV-7A Specifications (TRIGEAR)
Exterior Dimensions
Span
25 ft 0 in
Length
20 ft 4 in
Height
7 ft 10 in
Wing Area
121 sq ft
Weights
Empty Weight
1077 - 1130 lbs
Gross Weight
1800 lbs
Loadings
Wing Loading
14.8 lb/sq ft
Power Loading
12.0 - 9.0 lb/hp
Powerplant/Systems
Engine
150-200 hp
Propeller
Fixed or C/S
Fuel Capacity
42 US gal
Other
Baggage
100 lbs
Solo Weight 1400 lbs
Gross Weight 1800 lbs
160 hp
180 hp
200 hp
Empty weight and performance measured with Hartzell 2 Blade C/S prop
Speed - Solo Weight
Top Speed
202 mph
210 mph
217 mph
Cruise [75% @ 8000 ft]
192 mph
200 mph
207 mph
Cruise [55% @ 8000 ft]
173 mph
180 mph
187 mph
Stall Speed
51 mph
51 mph
51 mph
Speed - Gross Weight
Top Speed
201 mph
209 mph
216 mph
Cruise [75% @ 8000 ft]
191 mph
199 mph
206 mph
Cruise [55% @ 8000 ft]
172 mph
179 mph
186 mph
Stall Speed
58 mph
58 mph
58 mph
Ground Performance - Solo Weight
Takeoff Distance
300 ft
275 ft
250 ft
Landing Distance
350 ft
350 ft
350 ft
Ground Performance - Gross Weight
Takeoff Distance
650 ft
575 ft
500 ft
Landing Distance
500 ft
500 ft
500 ft
Climb/Ceiling - Solo Weight
Rate of Climb
1,900 fpm
2,200 fpm
2,550 fpm
Ceiling
21,000 ft
23,000 ft
25,500 ft
Climb/Ceiling - Gross Weight
Rate of Climb
1,400 fpm
1,650 fpm
1,900 fpm
Ceiling
18,500 ft
20,500 ft
22,500 ft
Range
Range [75% @ 8000 ft]
835 sm
775 sm
765 sm
Range [55% @ 8000 ft]
1,025 sm
950 sm
935 sm
RV-7A Performance (TRIGEAR)
Solo Weight 1400 lbs
Gross Weight 1800 lbs
160 hp
180 hp
200 hp
Empty weight and performance measured with Hartzell 2 Blade C/S prop
Speed - Solo Weight
Top Speed
200 mph
208 mph
215 mph
Cruise [75% @ 8000 ft]
190 mph
198 mph
205 mph
Cruise [55% @ 8000 ft]
171 mph
178 mph
185 mph
Stall Speed
51 mph
51 mph
51 mph
Speed - Gross Weight
Top Speed
199 mph
207 mph
213 mph
Cruise [75% @ 8000 ft]
189 mph
197 mph
204 mph
Cruise [55% @ 8000 ft]
170 mph
177 mph
183 mph
Stall Speed
58 mph
58 mph
58 mph
Ground Performance - Solo Weight
Takeoff Distance
300 ft
275 ft
250 ft
Landing Distance
350 ft
350 ft
350 ft
Ground Performance - Gross Weight
Takeoff Distance
650 ft
575 ft
500 ft
Landing Distance
500 ft
500 ft
500 ft
Climb/Ceiling - Solo Weight
Rate of Climb
1,800 fpm
2,100 fpm
2,450 fpm
Ceiling
20,000 ft
22,000 ft
24,500 ft
Climb/Ceiling - Gross Weight
Rate of Climb
1,350 fpm
1,600 fpm
1,850 fpm
Ceiling
17,500 ft
19,500 ft
21,500 ft
Range
Range [75% @ 8000 ft]
825 sm
765 sm
755 sm
Range [55% @ 8000 ft]
1015 sm
940 sm
925 sm