Vans RV8/8A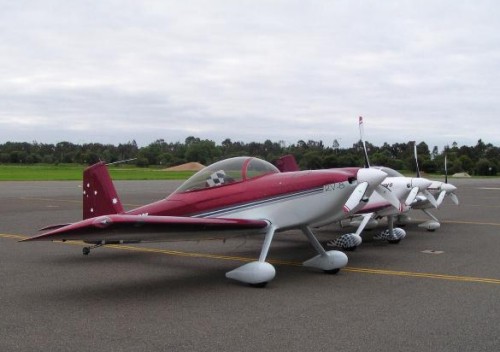 In 1995, Van's decided to re-visit the tandem concept. Even though the side-by-side RV-6/6A had become the most popular homebuilt design ever, there was still a significant percentage of pilots who really wanted centerline seating. The consensus seemed to be that a new tandem airplane, optimized for cross-country flying, would be popular.
The "concept airplane" was dubbed the RV-8. A one-of-a-kind demonstrator was built in 1995 and introduced at Oshkosh. The cockpit was several inches wider than the RV-4, so space both front and rear was greatly improved. Really big people (high on the "bubba scale") who could not fit in earlier RVs now had an airplane they could fly. A front baggage compartment almost doubled the available baggage capacity…and along with the usual compartment behind the rear seat, actually gave slightly more space than the RV-6/6A. With compartments both forward and aft, keeping the loaded airplane in the allowable CG envelope was easier than ever. An upright seating position under a big bubble canopy continued the RV tradition of unparalleled visibility. Fuel capacity was increased again and the engine compartment was designed to accept engines from 150-200 horsepower.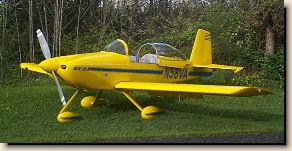 Although the wing looked and flew exactly like the RV-4 wing, it was actually much simpler to build. Advances in manufacturing and design capability, including the acquisition of computer controlled machine tools, meant that the entire kit could be simpler, more precise and much more pre-fabricated than ever before.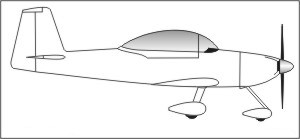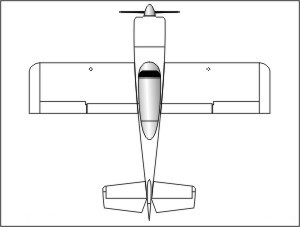 Performance was typically RV. With the same power, the RV-8 flew and handled very much like earlier RVs, but with the bigger engines, the numbers were even more impressive. It was now possible to maintain cruise speeds over 200 mph and climb rates over 2500'/minute.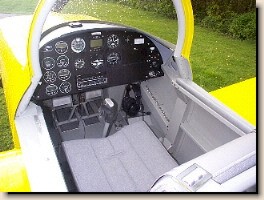 Exterior Dimensions
Span
24 ft
Length
21 ft
Height
5 ft 7 in
Wing Area
116 sq ft
Weights
Empty Weight
1067 - 1120 lbs
Gross Weight
1800 lbs
Loadings
Wing Loading
15.5 lb/sq ft
Power Loading
12 - 9 lb/hp
Powerplant/Systems
Engine
150-200 hp
Propeller [in prototype]
Fixed or C/S
Fuel Capacity
42 US gal
Other
Baggage
125 lbs
RV-8A Specifications TRIGEAR
Exterior Dimensions
Span
24 ft
Length
20 ft 10 in
Height
7 ft 4 in
Wing Area
116 sq ft
Weights
Empty Weight
1067 - 1120 lbs
Gross Weight
1800 lbs
Loadings
Wing Loading
15.5 lb/sq ft
Power Loading
12 - 9 lb/hp
Powerplant/Systems
Engine
150-200 hp
Propeller [in prototype]
Fixed or C/S
Fuel Capacity
42 US gal
Other
Baggage
125 lbs
Solo Weight 1400 lbs
Gross Weight 1800 lbs
160 hp
180 hp
200 hp
Empty weight and performance measured with Hartzell 2 Blade C/S prop
Speed - Solo Weight
Top Speed
206 mph
214 mph
222 mph
Cruise [75% @ 8000 ft]
197 mph
204 mph
212 mph
Cruise [55% @ 8000 ft]
175 mph
182 mph
189 mph
Stall Speed
51 mph
51 mph
51 mph
Speed - Gross Weight
Top Speed
205 mph
213 mph
221 mph
Cruise [75% @ 8000 ft]
195 mph
203 mph
210 mph
Cruise [55% @ 8000 ft]
173 mph
180 mph
187 mph
Stall Speed
58 mph
58 mph
58 mph
Ground Performance - Solo Weight
Takeoff Distance
300 ft
275 ft
250 ft
Landing Distance
350 ft
350 ft
350 ft
Ground Performance - Gross Weight
Takeoff Distance
650 ft
575 ft
500 ft
Landing Distance
500 ft
500 ft
500 ft
Climb/Ceiling - Solo Weight
Rate of Climb
2,000 fpm
2,300 fpm
2,700 fpm
Ceiling
21,000 ft
23,000 ft
25,500 ft
Climb/Ceiling - Gross Weight
Rate of Climb
1,400 fpm
1,650 fpm
1,900 fpm
Ceiling
18,500 ft
20,500 ft
22,500 ft
Range
Range [75% @ 8000 ft]
855 sm
790 sm
780 sm
Range [55% @ 8000 ft]
1,030 sm
955 sm
940 sm
Solo Weight 1400 lbs
Gross Weight 1800 lbs
160 hp
180 hp
200 hp
Empty weight and performance measured with Hartzell 2 Blade C/S prop
Speed - Solo Weight
Top Speed
204 mph
212 mph
220 mph
Cruise [75% @ 8000 ft]
195 mph
202 mph
210 mph
Cruise [55% @ 8000 ft]
173 mph
180 mph
187 mph
Stall Speed
51 mph
51 mph
51 mph
Speed - Gross Weight
Top Speed
203 mph
211 mph
219 mph
Cruise [75% @ 8000 ft]
193 mph
201 mph
208 mph
Cruise [55% @ 8000 ft]
171 mph
178 mph
184 mph
Stall Speed
58 mph
58 mph
58 mph
Ground Performance - Solo Weight
Takeoff Distance
300 ft
275 ft
250 ft
Landing Distance
350 ft
350 ft
350 ft
Ground Performance - Gross Weight
Takeoff Distance
650 ft
575 ft
500 ft
Landing Distance
500 ft
500 ft
500 ft
Climb/Ceiling - Solo Weight
Rate of Climb
1,900 fpm
2,200 fpm
2,600 fpm
Ceiling
20,000 ft
22,000 ft
24,500 ft
Climb/Ceiling - Gross Weight
Rate of Climb
1,350 fpm
1,600 fpm
1,800 fpm
Ceiling
17,500 ft
19,500 ft
21,500 ft
Range
Range [75% @ 8000 ft]
845 sm
780 sm
770 sm
Range [55% @ 8000 ft]
1020 sm
945 sm
930 sm