Vega ST 87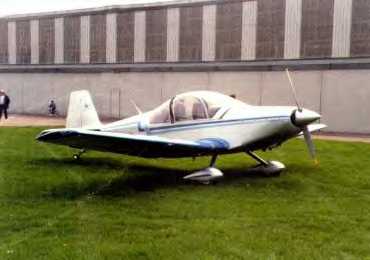 The Vega ST 87 is a side by side two seat, low wing aircraft designed by René Stern. Construction materials are wood & fabric. The landing gear may be built as a fixed trigear or fixed tailwheel.
specifications
powerplant
propeller
length
height
wing span
wing area
seats
empty weight
useful load
gross weight
fuel capacity
range
108 to 125 HP
x
23 ft.
9 ft.
25 ft.
108 sq. ft.


x


1035 lbs.
x
1600 lbs.
30 gal.
750 m.
performance
takeoff distance, ground roll
rate of climb
max speed
cruise speed
landing distance, ground roll
service ceiling
1400 ft.

To 50 ft.
788 ft./min.


150 mph.
x
1500 ft.

Over 50 ft.
13,000 ft.
limiting and recommended speeds
design manoeuvring speed (Va)
never exceed speed (Vne)
stall, power off (Vsl)
landing approach speed
x
168 mph.


62 mph.
75 mph.
All specifications are based on manufacturer's calculations