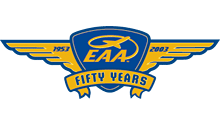 click on logo for link (opens in new window)
Experimental Aircraft Association, is a growing and diverse organization of members with a wide range of aviation interests and backgrounds. EAA was founded in 1953 by a group of individuals in Milwaukee, Wisconsin, who were interested in building their own airplanes. Through the decades, the organization expanded its mission to include antiques, classics, warbirds, aerobatic aircraft, ultralights, helicopters and contemporary manufactured aircraft.
It has its headquarters at Oshkosh (WI) and each year the largest fly-in in the World is held there. They have an extensive museum and interpretation centre, so it is well worth a visit.
Local branches are based in most areas. These are called 'chapters'.
rules and regulation to build your aircraft