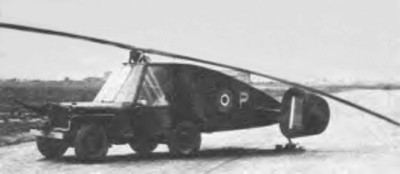 The work of the Airborne Forces Experimental Establishment at Ringway, Manchester, on the Rotachute from 1940 onwards led to the suggestion that the free-wheeling autogyro principles employed could also be applied to larger loads. The designer, Raoul Hafner, suggested the Rotabuggy, a Jeep (or "Blitz Buggy") with rotors, and the Rotatank, a similarly modified Valentine tank. A development contract was placed with the M.L. Aviation Company at White Waltham in 1942, covered by specification 10/42.

Preliminary tests involved loading a Jeep with concrete and dropping it from heights of up to 7 ft. 8 in. (2.35 m.), demonstrating that the standard vehicle could survive undamaged from impacts of up to 11g. A 46 ft. 8 in. (12.4 m.) dia. two-blade rotor was then fitted, as well as a streamlined tail fairing with twin rudderless fins. Other additions were Perspex door panels, a 'hanging' rotor control next to the steering wheel and a rotor tachometer and glider navigational instruments.

The Rotabuggy, camouflaged, carrying RAF roundels and a prototype "P", was tow tested behind a 4½ litre supercharged Bentley, and achieved gliding speeds of up to 65 mph (105 km/h) IAS.
The first flight was made on November 16, 1943. Later, some flights were made behind a Whitley bomber from Sherbourne-in-Elmet.

One witness described how she watched a Whitley take off with a Jeep in tow, circle and land. The Jeep, still in tow, did not touch down at the same time, and the witness realised that its occupants "were unhappy". With the pilot holding the hanging control column and the driver clutching the steering wheel, the Jeep made a series of up and down movements, whilst the audience hoped it would stall on a 'down' rather than an 'up'.

This it fortunately did, the driver taking over and driving flat-out after the Whitley, to which it remained attached. When it stopped, nobody got out for a while; the pilot was then assisted out and lay down beside the runway to recover. Apparently he was exhausted from trying to control the joystick, which had whipped in circles for the whole flight.

Apparently this flight was one of the worst, and the handling and flying qualities of the Rotabuggy were officially recorded as "highly satisfactory", especially when large tail fins had been fitted and greater rotor blade articulation provided. However, development of Horsa II and Hamilcar vehicle carrying gliders made further development of the idea unnecessary.
Rotabuggy data:
ROTOR SPAN:
46 ft. 8 in. (12.4 m.)

GROSS WEIGHT:
3,110 lb. (1411 kg) including
550 lb. (241 kg) for rotor unit
DESIGN MAX. SPEED:
150 mph (241 km/h)

EST. RATE OF DESCENT:
960-1,980 ft/min
(4.9-10 m/sec)