1910 Henri Farman III biplane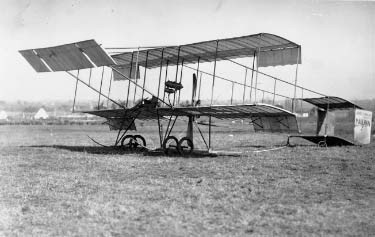 The Henri Farman III, one of the most famous and widely used of early European biplanes, was the first aircraft produced by Farman's factory in France. It had full ailerons which made it controllable by giving roll, or banking, control as well as sprung wheels on the landing skids to come " ... to earth most perfectly and with the least shock." It won distance, altitude and passenger carrying awards at the Reims air meet of August 1909. Farman had earlier been the first in Europe to fit practical ailerons to an airplane; a Voison-Farman I bis, in October 1908. The Farman III was the first aeroplane to fly from England to Ireland.

Farman aircraft were in fact Voisin designs. Much to the annoyance of Voisin, Farman would make minor modifications and rename the product Farman.

Specifications: span 34 ft. 6 in.; length 43 ft. 6 in.; takeoff weight 1270 lbs.; engine 50 hp. Gnome seven-cylinder air-cooled rotary (original); 150 hp. Lycoming air-cooled flat four (representation); speed 45 mph.