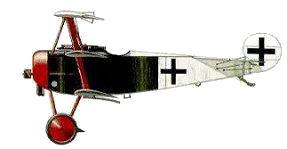 Designed almost by mistake, obsolescent when introduced, the Fokker Triplane was a strange and famous aberration which allowed the skilled and experienced to ravage the slow-witted, inept, and inexperienced. Real geniuses like Werner Voss and Baron Manfred von Richthofen used the machine's incredibly tight turning circle, quick, agile climbs, and innovative, special tactics to slaughter clumsy opponents, literally, by the score.

The design used an engine for which there was virtually no demand, and was set up with an eye to labour and parts economy. Inspired very much by but not really a copy of the Sopwith Tripe, the design enjoyed stunning early success. Tony Fokker impulsively ordered his chief designer, Reinhold Platz, to construct a wild series of prototypes, based largely on the assumption that, if three wings are good, four must be even better, five better still, and so on... Some of these were actually constructed by Platz' crew, but fortunately, Fokker was quickly busied with other pressing matters, and Platz turned to more practical concerns, such as the wing structure problems, which proved to be due to out-of-specification construction techniques, not the design. This delayed the type's quantity debut at the front, but when it came into major service again with units like JaqdGeschwader One, von Richthofen's "Flying Circus", a few crafty, cunning pilots racked up tremendous scores. Von Richthofen alone totaled eighty kills, twenty or more in the Dr.I. Voss destroyed twenty-one in just over three weeks before he was shot down September 23rd, 1917.

Only 320 Dr.I's ever saw service, but with the Camel, they were perhaps the most famous aircraft of the war. The principles were the same as the Sopwith. Slower than most of its contemporaries, it was very agile, had an excellent climb and roll rate. Any adversary who tried to lose a Dr.I by turning stood little chance of survival. Like the Japanese Zero-sen in World War II, the only way to beat the Dr.I was to refuse to play its pilot's game...hit, run, dive, hit and run again, never getting into a turning or climbing contest.

Fokker rebuilt Dr.I's in Holland for post-war air services, calling them S.P.5's, and using updated engines and revised armament. They were sold to customers worldwide, and a few were built new until about 1922.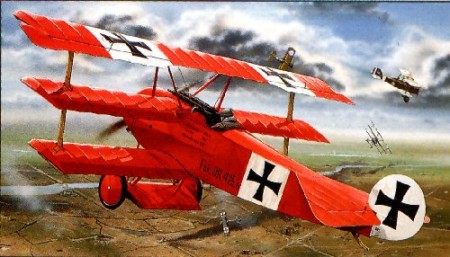 Country: Germany
Manufacturer: Fokker Flugzeug-Werke GmbH
Type: Fighter
First Introduced: August 1917
Number Built: 320
Engine(s): Oberursel UR.II, 9 cylinder reciprocating, 110 hp
Le Rhône, 9 cylinder rotary, 110 hp (from captured aircraft)
Wing Span: 23 ft 7 3/8 in [7.19 m]
Length: 18 ft 11 1/8 in [5.77 m]
Height: 9 ft 8 in
Empty Weight: 893 lb
Gross Weight: 1,289.2 lb [586 kg]
Max Speed: 103.12 mph [165 kmh] @ 13,120 ft [4000 m]
Ceiling: 20,013 ft [6100 m]
Endurance: 1.5 hours
Crew: 1
Armament: 2 Spandau 7.92 mm light machine guns