Gustine Built 1912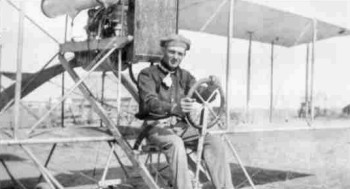 GUSTINE BUILT - Joseph L. Cato, is shown in 1912 at the controls of the radical plane he designed and built himself at Gustine. The modern design craft had a 1907 Pope Toledo car engine with four cylinders. It was one of the first planes with fabric on top of a wing as well as under. The revolutionary three-in-one steering mechanism did away with shoulder straps previously used to control the craft in the air. There were no brakes. Cato flew the craft three years after his first solo flight at the Alameda marshes.
Joseph L. Cato of Turlock, who made his first solo flight six years after the Wright Brothers flew at Kitty hawk, is an "Early Bird" who never broke a bone while flying.

Recently honoured by the government for "significant contributions to the history of flight made by pilots who flew solo before December 17, 1916," Cato lives quietly with his wife at 409 North Thor St., Turlock.

His name is inscribed with 280 other pioneers on a bronze plaque outside the National Air Museum of the Smithsonian Institute in Washington, D. C. Less than a handful of the original "Early Birds" are still alive. It was 1903, the year that Wilbur and Orville Wright made their first powered flight, that Cato jumped off a Stockton barn in an attempt to fly a home-made glider. One crashed, but the second flew. The 28-foot, 110-pound powerless craft sailed 200 feet over a hay stack.

In 1908, he wrote to the war department in Washington for information on building a powered plane he proposed to manufacture. On Oct. 15, 1909, he made his first solo flight in a single surface Curtiss-type airplane he designed and constructed. The next year he held a 20 minute endurance record with a 35 horsepower plane owned by Ames Tricycle Company of San Francisco. Working spare time as an auto mechanic to pay for his flying lessons, Cato continued to learn about the infant industry that would take powered craft into outer space during his lifetime.

Cato liked engineering more than flying. He worked out his ideas from paper to the finished aircraft. He took the planes into the air to see if he was right. Wrong engineers usually made one error. Designing and building a new type of monoplane in 1910, he installed one of the first air-cooled engines available. In 1911, he designed and built a nine-cylinder air-cooled rotary engine. Al told, he is credited with 14 different types of airplanes he designed and built. He collaborated in design and building nine others. He was the man who installed the first of the famous Liberty engines that flew to glory in warplanes. He holds 10 patents and has applied for four more, all in aviation experimental fields. These figures are all officially recorded in the government's recognition of Cato's accomplishments.

After 44 years as an experimental aeronautical engineer, he retired to Turlock in 1953.

He can look over Gustine and recall what it was like to fly his homemade plane over the grain fields of that area in 1912. His radical cotton, muslin and spruce craft did not require shoulder straps to control the ailerons, a big step forward in engineering.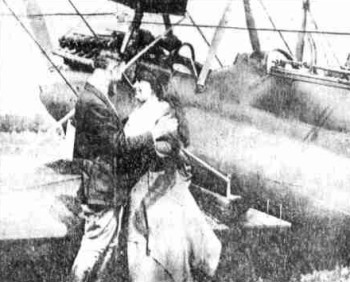 SAFE AGAIN - Mrs. Joseph L. Cato, a new bride, rushed out to greet her pioneer flying husband when he landed his experimental fighter plane after a 1918 test flight at Long Island. The 450-horsepower plane, designed and built by Cato, had armour plating under the bolts below the cockpits. The seven machine guns appealed to the British air wing, but the war ended before the LWF could fight overseas. The Catos still have the box camera with which a friend took the picture 45 years ago.
In September, 1918, he took his new bride up in a Model G L.W.F. fighter plane he designed and built himself. It was a bristling warplane, first in the country to have armour plate. Four machineguns fired through the propeller, two were under the wings, and one was mounted on the gun ring of the rear cockpit. The war ended before it saw action.

Mrs. Cato hated flying. She has been up less than half a dozen times since then, and tried many times to persuade her husband to give up flying and concentrate on engineering. He was up the last time at the start of World War II after logging about 1,400 hours, mostly in early day planes.

Many friends crashed in those early days, but Cato was never seriously injured. He played his "hunches" and never flew when they told him not to. While others died, he never had a crash serious enough to break a single bone.

The man who never wore a parachute until his final flying days at the start of World War II considers jets "too radical" and has never gone up in one. He has no wish to ride in a commercial airliner now, he maintains.
For the tall, energetic Early Bird who'll be 74 hears of Feb. 18, the thrills began in the days when he dreamed of controlling a balloon in flight. He worked out his schoolboy ideas on the topic which a Frenchman later proved were right.

The steps to gliders and powered craft followed.

Cato was not able to go to Washington, D. C. last year to accept the government's bronze plaque in recognition of his contribution to aviation. His son, Budd, accepted for him. Today in Turlock, the bronze plaque hangs on the wall of the Cato home. There is a photograph of his name inscribed on the building that houses the original Spirit of St. Louis and Kitty Hawk. A copy of the Congressional Record at the house lists his mane with Guiseppe Bellanca, George Page (of the WW I Handley Page bombers) and Allen Lockheed as an "eminent designer of aircraft."