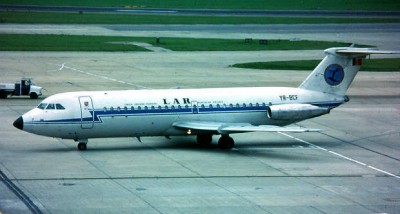 The BAC 1-11 story began in the 1950s as Vickers Armstrong and Hunting Aircraft commenced work on two separate design studies for a short haul jet airliner. By 1961 the newly formed British Aircraft Corporation decided to proceed with the project and on the 9 May 1961 the public launch took place as the first order was announced by the company for 10 aircraft from British United Airways. On 23 October Braniff Airways placed a firm order for 6 aircraft. Other orders soon followed from Mohawk Airlines for 4 aircraft, Kuwait Airways for 3 aircraft and by Central African Airways for 2 aircraft. Braniff Airways subsequently doubled it's order to 12 aircraft while Aer Lingus ordered 4 aircraft. Western Airways ordered 10 aircraft but later it was cancelled. The biggest breakthrough came when American Airlines ordered 15 aircraft on the 17 July 1963. 60 orders had been received by the time the first 1-11 was rolled out.

The prototype G-ASHG rolled off the Hurn production line on 28 July 1963 in the livery of first customer British United Airways. The first flight took place on 20 August. Unfortunately this aircraft crashed killing all on board on 22 October. Despite this early setback the flight test program continued and customer confidence remained high. American Airlines and Braniff Airways placed more orders in February 1964. During this year further orders were received from Mohawk Airlines, Philippine Airlines and from Helmut Horten who ordered the first Executive aircraft. By the end of 1964 13 aircraft had rolled off the production line.

After nearly 2 years of flight testing the aircraft was certified and the first 1-11 delivery, G-ASJI to British United Airways, took place on 22 January 1965. After several weeks of route proving flights the first revenue service commenced on 9 April with G-ASJJ from Gatwick to Genoa. Braniff took delivery of their first aircraft N1543 on 11 March while Mohawk Airlines took their first aircraft on 15 May. Deliveries continued to take place and by the end of 1965 34 aircraft had been received by their customers. In fact such was the demand that a second production line was set up at Weybridge to cope. Total deliveries for 1966 stood at 46 aircraft. 1967 to 1971 saw another 120 aircraft delivered with the most significant order going to British European Airways but then the decline set in! In the period 1972 until the production line finally closed in 1982 only another 35 aircraft were built! The largest order received during the last ten years came from Tarom.

The last aircraft to be built was G-BLDH construction number 262. The last aircraft to be delivered was G-BLHD "Last Hurn Delivery" construction number 260. This took place on 30 May 1984. A total of 235 aircraft had been delivered from Hurn and Weybridge.

This was not the end of the story though as the entire production line was moved to Baneasa in Romania. The ROMBAC project had been planned for a number of years and it was intended that as many as 80 1-11s would be built. The first flight of a Rombac 1-11 YR-BRA took place on 18 September 1982. Production continued until the 9th and last ever new production 1-11 YR-BRI came off the line. It's first flight took place in April 1989. It was delivered to Romavia in 1991. The demise of the Rombac project came about due to the unstable political situation in Romania. Total production of the BAC 1-11 therefore was 244 aircraft. 2 further airframes remained incomplete in Romania. These consisted of several models. The series 200, 300, 400, 475, 500, 670. If only the series 700 and 800 went further than the drawing board!

Major operators of the BAC 1-11 have included Court Line, Dan Air, British Caledonian, BEA/British Airways, European Aviation, Ryanair, Braniff, Florida Express, US Air, Austral, Okada Air, Kabo Air, Tarom, Bavaria.

During the last ten years the number of operational 1-11s in the UK has slowly decreased. Since British Airways and Dan Air retired their aircraft in 1992 the two major operators have been European Aviation and British World Airlines. The three remaining British World aircraft were retired at the end of 2000 and placed into storage at Southend. Two were flown out to Malta and are currently stored at the Medavia facility. The third remains stored at Southend. At European Aviation five aircraft remained current throughout the 2001 summer season. G-AVMT, G-AWYV, G-AXLL, G-AYOP, G-AZMF. By the beginning of November all the aircraft had returned to Hurn. G-AXLL and G-AYOP have been sold to Savannah Airlines of Nigeria and registered 5N-BDU and 5N-BDV. G-AWYV was placed into storage at the end of January 2002. The only current aircraft as of March 2002 was G-AZMF which had been operating the weekly ski flights from Bournemouth to Turin on Sundays. It carried out a number of enthusiast flights during March and became the last British Registered aircraft to carry out a commercial service on the 31st March 2002. It was placed into storage with G-AVMT and G-AWYV. The only other aircraft to survive in the UK are G-MAAH and VP-CCG operated by Aravco and based at Bournemouth, 2 aircraft operated by QinietQ, ZE432, ZH763, based at Boscombe Down and BAe Systems Radar Test Bed ZE433 which is also based at Bournemouth with FR Aviation. Regular visitors to Hurn are the 3 aircraft from the Royal Air Force of Oman. These visit FR Aviation for maintenance.

As for the remaining world wide fleet, the majority of surviving aircraft were being operated in Nigeria until May 2002. Sadly a crash brought an ubrupt end to operations and the entire fleet was grounded. There were as many as 50 aircraft owned by several operators although many are now derelict. It is assumed that the majority of the Nigerian fleet will not fly again. Other operators who continued to operate the aircraft into the 21st century included Nationwide Airlines of South Africa, Aero Asia of Pakistan, and a host of other small airlines in third world countries. Once again most are now in storage and probably won't fly again. About 12 executive aircraft remain in service with 6 having been stage three hush-kitted
Engines:
Thrust:
Range:
Seats:
First delivery:
Aircraft#
First passenger service:
Wingspan:
Length:
Height:


RR Spey MK506-14D engines
10,410 lbs. each
875 miles
89
March 11, 1965
N1543
April 25, 1965
88', 6"
93', 6"
24', 6"