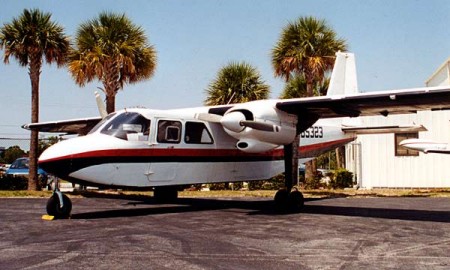 Design of the Islander started in 1963 and the first prototype BN-2 first flew on 13 June 1965, with the second prototype following on 20 August 1966. Both of these had engines that were less powerful than the production versions. The first production Islander first flew on 24 April 1967.

An improved version, the BN-2A, first flew in 1969. It incorporated aerodynamic and flight equipment improvements as well as changes to the baggage arrangements.

The Defender, a military version of the Islander, first flew on 20 May 1970.

In 1978 a further improved version, the BN-2B Islander II was introduced. Improvements included an increased carrying capacity and propeller modifications to reduce noise levels. Options that were available include a long-nosed version for increased baggage capacity, raked wingtip auxiliary fuel tanks and twin Allison 250-B17C turboprop engines. When the latter are installed the aircraft is designated as the designated the BN-2T.

An attempt to develop an Islander with an even larger capacity resulted in the BN-2A Mk III Trislander. This aircraft has a stretched fuselage, modified landing gear and a third (tail-mounted) engine. The prototype was constructed from the original second BN-2 prototype and flew on 11 September 1970.

A number of other companies have also manufactured the Islander in addition to Britten-Norman. URMA from Romania has been building the aircraft since 1969, while a factory in Gosselies, Belgium has been building it since 1973. The aircraft has also been assembled in the Philippines.
Capacity
Passenger configuration: 8
Cargo configuration: 700kg

Performance
Engines: 2 x 260 HP AVCO Lycoming
Range: 435km
Take off speed: 108kph
Cruising speed and height: 241kph at 2,430m
Landing speed: 93kph
Fuel capacity: 354kg
Max take off weight: 2993kg
Flight deck crew: 1


Technical Dimensions
Length: 10.87m
Wingspan: 16.15m
Height: 3.9m
Fuselage width: 1.09m
Rear hold capacity: 120kg
Rear hold door size: 0.46m x 0.76m
Interior cabin dimensions in cargo config: 2.9m x 1.24m x 1.09m