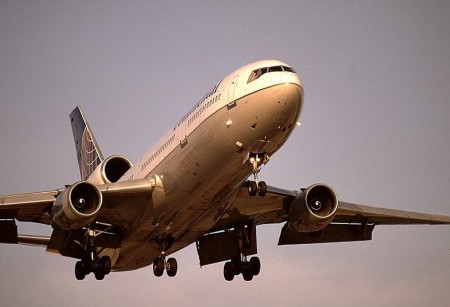 A new category of airplane was added to the world's air transportation system when the DC-10 entered scheduled airline service. It has been demonstrating its value to airlines and air travellers since then, winning world recognition for its reliability, comfort and efficiency in more than 25 million hours of revenue flight.
In addition to the luxury and spaciousness inherent in its wide cabin, the three-engine DC-10 incorporated improvements in propulsion, aerodynamics, structure, avionics, flight control systems and environmental compatibility that advanced industry standards.
The multi-range DC-10 was designed and built in Long Beach, California, by Douglas Aircraft Company, now the Long Beach Division of Boeing Commercial Airplanes. Production was started in January 1968 and first deliveries were in 1971. In a production run extending to 1989, 386 commercial DC-10s were delivered, plus 60 KC-10 tanker/cargo models built for the U.S. Air Force.
Six Models
Six commercial models of the DC-10 were developed. All versions of the trijet transport accommodate from 250 passengers, in a typical mixed first class and coach arrangement, to 380 in all-economy seating.
The Series 10 model was designed for service on routes of up to 4,000 statute miles (6,436 km) and is powered by General Electric CF6-6 engines, each rated at 40,000 pounds (17,144 kg) takeoff thrust. The first flight was made on Aug. 29, 1970. Federal Aviation Administration (FAA) certification was received for airline service on July 29, 1971. First deliveries were made jointly to American Airlines and to United Airlines. Scheduled commercial flights began Aug. 5, 1971.

The intercontinental range Series 40, powered by Pratt & Whitney JT9D turbofan engines, with non-stop range up to approximately 5,800 miles (9,322 km), was introduced to service in 1972.

The Series 30, an intercontinental model with a range of approximately 5,900 miles (9,493 km), also introduced in 1972, is equipped with General Electric CF6-50 fanjets.

The DC-10 Convertible Freighter, first delivered in 1973, can be arranged to carry all passengers or all cargo and is available in the basic Series 10, Series 30 or Series 40. All versions have available cargo space of more than 16,000 cubic feet (453 cu m), as much capacity as four 40-foot (12.19-m) railroad freight cars, or up to 380 passengers.

The Series 15, launched in 1979, combines the basic smaller airframe of the Series 10 with a version of the more powerful engines used on the longer-range Series 30s. The combination gives the Series 15 outstanding performance with full loads from high-altitude airports in hot climates.

The DC-10 Series 30F, an all-freighter model, was ordered by Federal Express in May 1984. First delivery was made Jan. 24, 1986. This pure freighter version will carry palletized payloads of up to 175,000 pounds (79,380 kg) more than 3,800 miles (6,115 km).
A military variant of the DC-10 is the U.S. Air Force KC-10 tanker/cargo aircraft, adapted from the Series 30CF for aerial refueling and cargo transport. Sixty were built and delivered to the Air Force.
Advanced Propulsion
The DC-10's General Electric and Pratt & Whitney power plants represented significant advances in engine performance and technology over earlier jet engines. The high-bypass-ratio turbofans yield lower specific fuel consumption, lower noise levels, smokeless exhaust, easier maintenance and design for high reliability. Thrust ratings range from 40,000 to 54,000 pounds (17,144 to 24,494 kg). Two engines are mounted beneath the wings; the third is above the aft fuselage at the base of the vertical stabilizer.
Interior
The wide DC-10 cabin interior with its broad ceiling results in a roomy spaciousness. Two aisles run the length of the cabin. Aisles and seats are wider than those on earlier jet transports, providing a level of passenger comfort and convenience that set a new standard in air travel. Galleys can be installed on the lower deck or in a section of the aft cabin, both areas well separated from passengers. An advanced air conditioning and cabin pressurization system provides separate automatic temperature controls for the three main cabin sections and for the cockpit and lower galley, ensuring optimum comfort for all passengers, regardless of load density in the different areas.
Flight Deck
The roomy flight deck of the DC-10 has stations for a three-member crew, plus seating for two observers. Prime considerations in cockpit design were simplicity, efficiency and low crew workload. Large windshields provide exceptional visibility, particularly during approaches, landings and ground manoeuvring. The DC-10 is certified for automatic landing under Category IIIA weather conditions, allowing operation in near-zero visibility.
Good Neighbour
The airplane was designed specifically to be a "good airport neighbour," operating from existing runways, taxiways and loading areas. Although each engine produces more than twice as much takeoff thrust as the most powerful engines on first-generation jetliners, the DC-10 power plants are significantly quieter. The DC-10 was the first commercial transport to be certified under the stringent FAA Stage 3 regulations governing sound levels for new aircraft, and it also complies with international noise standards.