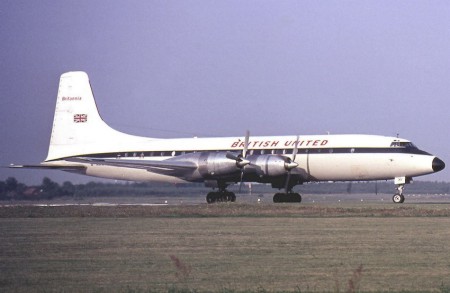 Nicknamed the 'Whispering Giant', the Bristol Type 175 Britannia was a medium/long-range airliner built by the Bristol Aeroplane Company in 1952 to fly a number of air routes across the British Empire. Soon after entering production the engines proved unusually susceptible to icing, and two prototypes were lost while solutions to the problems were found. By the time it was cleared through testing the US-built jet airliners were about to enter service, and only eighty-five Britannias were built before production ended in 1960. Nevertheless the Britannia is often considered the high point in turboprop airliner design.

In 1942, during World War II, the US and UK agreed to split responsibility for aircraft construction; the US would concentrate on transport aircraft while the UK would concentrate on their heavy bombers. This would leave the UK with little experience in transport construction at the end of the war, so in 1943 a committee met under the leadership of Lord Brabazon of Tara in order to investigate the future needs of the British civilian airliner market. The Brabazon Committee delivered a report calling for the construction of four main "Types" of aircraft.

Bristol won both the Type I and Type III contracts, soon delivering their Type I design, the Bristol Brabazon in 1949. The initial requirement for the Type III, C2/47, was issued by the Minister of Supply for an aircraft capable of carrying 48 passengers and powered with Bristol Centaurus radial engines. Turboprop and compound engines were also considered, but they were so "new" that Bristol could not guarantee the performance specifications with these engine types. After wrangling between the Ministry of Supply and BOAC over costs, the go-ahead was given in July 1948 for three prototypes, although the second and third were to be convertible to Bristol Proteus turboprops.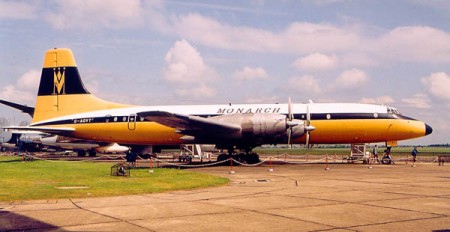 In October, with work already underway, BOAC changed their mind and decided that only a Proteus-engined aircraft was worth working on, and the project was redrawn to allow for both turboprop and piston aircraft. BOAC purchased options for 25 aircraft in July 1949, the first six with the Centaurus engine and the rest with the Proteus, and now enlarged for 74 passengers.

By the time the first prototype flew on August 16, 1952 BOAC and Bristol had dropped the Centaurus version as the turboprop Proteus had shown such promise. The Britannia was now a 90-seater and BOAC ordered 15 of these Series 100s. In 1953 and '54 three de Havilland Comets disappeared with no explanation, and the Air Ministry demanded that the Britannia undergo a lengthy series of tests. Further delays were caused by a series of engine problems, mostly related to icing. This delayed the in-service date until February 1957, when BOAC put their first Britannia 102s into service on the London to South Africa route, with Australia following a month later.

Bristol then upgraded the design as a larger transatlantic airliner for BOAC, resulting in the Series 200 and 300. The new version had a fuselage stretch of 10ft 3 in (3.12m) and upgraded Proteus engines, and was offered as the all-cargo Series 200, the cargo/passenger (combi) Series 250, and the all-passenger Series 300.

The first 301 flew on July 31, 1956. BOAC ordered seven Model 302s but never took delivery of them - instead they were taken on by several other airlines including Aeronaves de México and Ghana Airways. The main long range version was the 312, of which BOAC took 18 and, after deliveries began in September 1957, put them into service between London and New York. In total 45 Series 300's were built, the first airliner to enter regular non-stop transatlantic service in both directions.

Royal Air Force Bristol Britannia in 1964A further 23 Model 252 and 253 aircraft were purchased by the RAF, as the Britannia C.Mk 2 and C.Mk1 respectively. Those in RAF service were commonly allocated the names of stars, "Arcturus", "Sirius", "Vega" etc. The last of these were retired in 1975, and were used by civil operators in Africa, Europe and the Middle East into the 1980s.

A licence was also issued to Canadair to build the type as a maritime reconnaissance aircraft and transport, the Canadair Argus. Unlike the Britannia the Argus was built for endurance, not speed, and so used four Wright R-3350-32W Turbo-Compound engines which use very little fuel (although it is perhaps surprising that it did not use the Napier Nomad, an even more efficient turbo-compound designed expressly for this role). The interior was left with almost no room to move, completely packed with various sensors and weapons.

Powerplants

CL-44D-4 - Four 4270kW (5730shp) RollsRoyce Tyne 515/50 turboprops driving four blade variable pitch propellers.

Performance

CL-44D-4 - Max cruising speed 647km/h (349kt), cruising speed 621km/h (335kt). Service ceiling 30,000ft. Range with max payload 4625km (2500nm), range with max fuel 8990km (4855nm).

Weights

CL-44D-4 - Operating empty 40,345kg (88,952lb), max takeoff 95,250kg (210,000lb).

Dimensions

CL-44D-4 - Wing span 43.37m (142ft 4in), length 41.73m (136ft 11in), height 11.18m (36ft 8in). Wing area 192.7m2 (2075sq ft).

Capacity

Flightcrew of two pilots and one flight engineer. CL-44D-4 - Max single class seating for 160 passengers (or 189 in the CL-44J). Max payload 29,959kg (66,048kg).

Production

A total of 27 civil CL-44s built (including four CL-44J and one CL-44-O conversions), and 12 military CL-44-6 designated CC-106 Yukon. Today only seven CL-44 still exist whereoff maximum three are airworthy.