De Havilland U-6A Beaver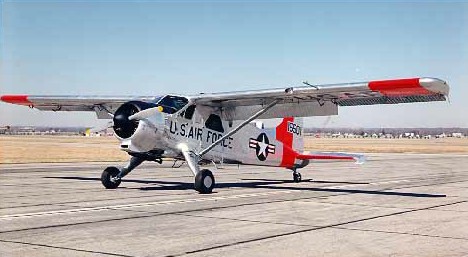 The U-6A (known as the L-20A until 1962), was manufactured by DeHavilland Aircraft of Canada, Ltd. Between 1952 and 1960, nearly 1,000 were delivered to the U.S. armed services. Most were used by the U.S. Army, but more than 200 U-6As went into the USAF inventory and were flown in utility transport and liaison roles.
The principal mission of the USAF U-6A was aerial evacuation of litter and ambulatory patients. Other missions included courier service, passenger transport, light cargo hauling, reconnaissance, rescue, and aerial photography. The U-6A saw USAF service in both the Korean and Vietnam Wars.
SPECIFICATIONS
Span: 48 ft.
Length: 30 ft. 4 in.
Height: 10 ft. 5 in.
Weight: 5,100 lbs. loaded
Armament: None (provisions for two racks under each wing capable of carrying one 250 lb. bomb or chemical tank on each rack)
Engine: One Pratt & Whitney R-985 of 450 hp.
Cost: $45,000
Serial Number: 51-16501
C/N: 277
Other Registrations: N9239
PERFORMANCE
Maximum speed: 163 mph.
Cruising speed: 120 mph.
Range: 455 miles
Service Ceiling: 20,000 ft.