Cessna T-41A Mescalero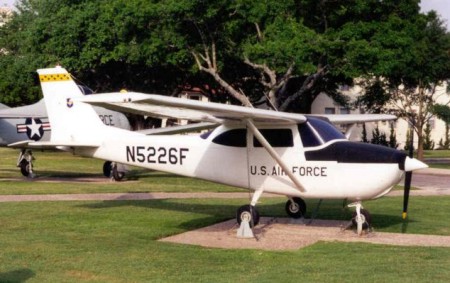 The T-41 trainer is a standard Cessna Model 172 light general aviation aircraft purchased "off-the-shelf" by the Air Force for preliminary flight screening of USAF pilot candidates. The first 170 T-41As were ordered in 1964, and an additional 34 were ordered in 1967. Most went into service at various civilian contract flight schools, each located near one of Air Training Command's Undergradute Pilot Training (UPT) bases. In 1968 and 1969 the USAF Academy acquired 52 T-41Cs, with more powerful engines, for cadet flight training.
SPECIFICATIONS
Span: 35 ft. 10 in.
Length: 26 ft. 11 in.
Height: 8 ft. 10 in.
Weight: 2,300 lbs. loaded
Armament: None
Engine: One Continental O-300-C six-cylinder piston engine of 145 hp.
Cost: $13,465
Serial number: 65-5251
PERFORMANCE
Maximum speed: 139 mph.
Cruising speed: 117 mph.
Range: 720 miles
Service Ceiling: 13,100 ft.