North American F-100 Super Sabre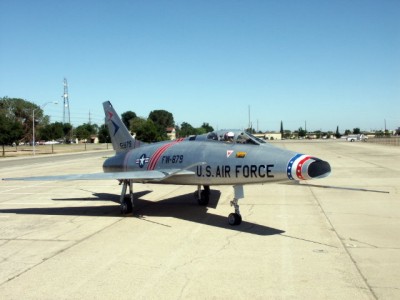 First supersonic fighter in the West, the F-100 originated in the early 1950s as direct successor to the famous F-86 Sabre. The USAF ordered two prototypes on November 1, 1951, and the first of these took off on May 25, 1953. Mass-production began immediately with the initial A variant (203 machines). In the second C version the role of interceptor was transformed into that of fighter-bomber: ordered in February 1954, 476 machines were built. Then followed the F-100D version (first flight January 24, 1956), produced in largest numbers, with 1,274 machines. The last was the F-100F, a two-seater training plane (first flight March 7, 1957), of which 339 were built. The Super Sabre, in service from 1954, first saw action ten years later in Vietnam, where it remained in service until 1971. These planes were used principally for tactical support work.
The F-100Ds, last single-seater version of the first American supersonic fighter, provided with an autopilot and also armed with bombs attached to the underside of the wings, played an important role in the Vietnam war, with over 300,000 missions from August 1964 to July 1971, when the 35th Tactical Fighter Wing finally left Phan Rang to return to the United States. The 615th TFS was the first unit furnished with F-100Ds to reach Da Nang on August 5, 1964, followed on August 17 by the 401st TFW, stationed at Tan Son Nhut. The Super Sabres, familiarly known as 'Huns', a shortened version of 'Hundred', were immediately used for low-level night bombing missions, and during the first years of the war pounded objectives in South Vietnam where suspected concentrations of Viet Cong had been sighted. For this type of mission the F- 100Ds were armed with two CBU-24 bombs which, on opening, released a large number of anti-personnel devices, and two 750lb (340kg) napalm bombs. Once they had dropped their load, the Super Sabres proceeded to spray the zone under attack with their four 20mm cannons to complete the 'cleaning up' work. Because of their adaptability and, even more, the lack of a real alternative, numerous F-100 Wings were used in Vietnam, some of them consisting of squadrons of the Air National Guard, called up for front line service. The 3rd TFW alone carried out more than 100,000 missions in 1969! From the end of 1965 a number of two-seater F-100Fs, the Wild Weasel 1, carrying anti-SAM electronic equipment, were in action, operating from the Korat base in Thailand.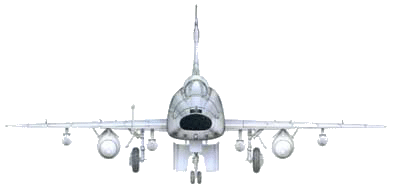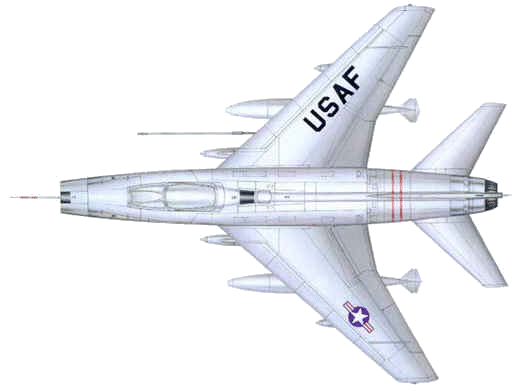 Technical Specifications
Aircraft: North American F-100D
Year: 1956
Type: fighter-bomber
Manufacturer: North American Aviation
Engine: Pratt & Whitney J57-P-21 A
Power: 16,950 lb (7,688 kg)
Wingspan: 38ft 9in (11.81m)
Length: 50ft (15.24m)
Height: 16ft 23/4in (4.95m)
Wing area: 400sq ft (37.16mē)
Max take-off weight: 34,832 lb (15,800 kg)
Empty weight: 21,000 lb (9,526 kg)
Max speed: 864 mph at 36,000ft (1,390km/h at 10,973m)
Service ceiling: 36,100ft (11,003m)
Range: 534mi (859km)
Crew: 1
Load-armament: 4x20mm cannon; 2 missiles; 7,500 lb (3,400 kg)