Gloster Javelin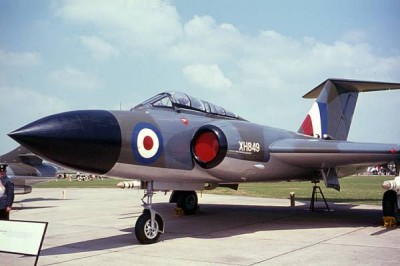 In early 1947 a specification for a two-seat prototype RAF Night-Fighter was issued. It was supposed to be capable of intercepting aircraft up to 40,000 feet, carrying four forward-firing 30-mm machine guns, reaching around 970 km/h at medium altitude and pulling at least 4g in high speed manoeuvres at low level. Gloster submitted two designs it was working on, both of which were similar, sporting delta wings and slightly different attitudes, one for day and for night fighting. The day fighter ended up going to the Hawker Hunter and the night fighter ended up going to the Gloster Javelin.

The Javelin's first prototype was destroyed in an accident which rushed the production of the second prototype so it could be shown to the public in the 1952 Farnborough air show, where it was limited to low-speed manoeuvres because of insufficient flying time to test everything out. Further developments were made to mate suitable radomes to the nose of the Javelin which sported rounded more bulbous versions on earlier aircraft, changing to a more elongated one on production Javelins. The fourth prototype was able to reach supersonic speeds, a feat which non-supporters of the Javelin argued it could not do. But it was the fifth prototype which most closely resembled the production Javelin, with the most notable difference from other prototypes being the whole cockpit Perspex canopy (compared to the rear seater having only port holes to look out!). The Javelin was the first all weather fighter to be developed for the RAF as an all weather fighter (or night fighter) from scratch.
The T Mk.3 version of the Javelin is of course the pilot training variant featuring dual controls and a 1.12 metre insert in the forward fuselage to offset some movement caused by the removal of the radar gear, but little else that is different from the initial FAW.1 production version. The main unit that the T.3 served with was the No.228 OCU (Operational Conversion Unit) at RAF Leeming which was responsible for Javelin crew training. Initially equipped with FAW.5's the unit took on the dual controlled T.3's when they became available in 1959. Most operational units also operated at least a single T.3 until 1968, especially after No. 228 OCU was disbanded in 1961 (although it was reformed briefly mid 60's, probably due to the South East Asian conflict).
PROPULSION:
Powerplant
(Javelin F(AW).1) two Armstrong Siddeley Sapphire ASSa.6 turbojets
(Javelin F(AW).7) two Armstrong Siddeley Sapphire ASSa.7 turbojets
(Javelin F(AW).8) two Armstrong Siddeley Sapphire ASSa.7R turbojets
Thrust
(ASSa.6) 16,000 lb (71.17 kN)
(ASSa.7) 22,000 lb (97.86 kN)
(ASSa.7R) 24,600 lb (109.43 kN) above 20,000 ft (6,095 m)

PERFORMANCE:
Max Level Speed
at altitude:
(Javelin F(AW).1) Mach 0.94
(Javelin F(AW).4) Mach 0.96
(Javelin F(AW).5) Mach 0.93
(Javelin F(AW).7) Mach 0.95
(Javelin F(AW).8) Mach 0.93
at sea level: 710 mph (1,140 km/h)
Initial Climb Rate
unknown
Service Ceiling
(Javelin F(AW).1) 52,500 ft (16,015 m)
(Javelin F(AW).4) 50,700 ft (15,470 m)
(Javelin F(AW).5) 50,100 ft (15,285 m)
(Javelin F(AW).7) 52,800 ft (16,110 m)
(Javelin F(AW).8) 52,000 ft (15,865 m)
Range
unknown
g-Limits
unknown

ARMAMENT:
Gun
two 30-mm ADEN cannons
Stations
five external hardpoints
Air-to-Air Missile
up to four Firestreak
Air-to-Surface Missile
none
Bomb
none
Other
none