North American B-45C Tornado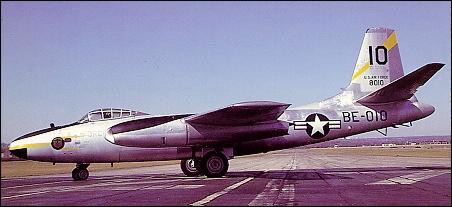 The B-45 was the first American four-engine jet bomber to fly and the first USAF jet bomber to go into production. Work on the design of the "Tornado" began during WW II and the first B-45 made its initial flight on March 17, 1947. B-45s remained in USAF operational use from 1948 until 1958.
North American built a total of 142 B-45s including 10 long-range B-45Cs with wingtip fuel tanks and 33 RB-45s configured for high altitude photo reconnaissance. Some RB-45Cs flew combat missions during the Korean War.
In 1952, using in-flight refuelling, two RB-45Cs made the first nonstop trans-Pacific flight by multi-engine jet bombers. In flying the 3,640 miles from Alaska to Japan in 9 hours and 50 minutes, one of the pilots won the Mackay Trophy for the most meritorious flight of that year.
SPECIFICATIONS
Span: 89 ft.
Length: 75 ft. 4 in.
Height: 25 ft. 2 in.
Weight: 110,000 lbs. max.
Armament: Two .50-cal. machine guns in the tail; 22,000 lbs. of bombs
Engines: Four General Electric J47s of 6,000 lbs. thrust ea.
Cost: $1,081,000
Serial Number: 48-010
C/N: 153-38486
PERFORMANCE
Maximum speed: 570 mph.
Cruising speed: 500 mph.
Range: 1000 miles
Service Ceiling: 37,550 ft.