Vickers Valiant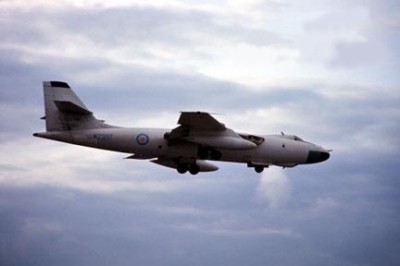 The first of the RAF's V-class bombers, the Valiant flew for the first time on 18 May 1951 and entered service with No. 138 Squadron early in 1955. Three prototypes and 104 production Valiants were built, the last of these being completed and flying on August 27, 1957. Apart from the initial production B.Mk. 1 long-range medium bomber, three versions of the Valiant were produced; the B.(P.R.) Mk. 1 dual-purpose version equipped for long-range high-altitude photo-reconnaissance, the B.K. Mk. 1 and the B.(P.R.).K. Mk. 1, both of which had provision for in-flight refuelling.

The first Valiant B.1s entered service with 232 Operational Conversion Unit at RAF Gaydon in June 1954. Gaydon had been a bomber training station in World War II and had been re-opened to be the first V-Force base. While the first Valiant crews were being trained the first operational squadron was formed. The first of the new V-Bombers, the Vickers Valiant, entered service with No. 138 Sqn at RAF Gaydon, Warwickshire in January 1955. 138 moved to RAF Wittering and became fully operational in July 1955. Wittering had been home to the RAF's slowly increasing stockpile of nuclear weapons since 1953 and now finally the RAF had bombers and bombs in the same place. In 1956 RAF Marham and RAF Honington were prepared for V-Force operations and five more Valiant squadrons were formed - 214, 207, 148, 49 and 7 Squadrons. On 25-26 May 1960 a Valiant of No. 214 Sqn made the first non-stop UK - Singapore flight. Covering a distance of 8,100 miles (13,053 km) in 15 hr 35 min, the aircraft was refuelled over Cyprus and Karachi, Pakistan.
A total of 11 Valiant B(PR) Mk.1 reconnaissance variants were produced. These could carry up to eight cameras in the bomb bay instead of a bomb load. The first deliveries of these were to the newly formed 543 Squadron at RAF Wyton in June 1955. Once Valiant B.1 and Valiant B(PR).1 production finished, another variant was produced, the Valiant B(PR)K.1.
During the Suez Crisis Valiants of 138, 148, 207 and 214 squadrons were deployed to RAF Luqa in Malta and the first Valiant attacks against Egyptian airfields began on 31 October 1956. After failing to stop Egyptian and Israeli fighting around the Suez Canal, RAF Canberra and Valiant bombers flying from Malta and Cyprus, in conjunction with French Air Force aircraft, attacked twelve airfields in the Canal Zone. Airfield attacks continued until 4 November, by which time the Egyptian Air Force had been decimated.
The Valiant can carry a 10,000-lb. bomb load internally, but by the mid-1960s was relegated largely to the photo-reconnaissance and tanker roles. In 1964 the entire Valiant fleet was retired, with the OCU being first to disband and the last Valiant squadron, 49 Squadron, being disbanded in January 1965.
Power Plant: Four Rolls-Royce Avon 204 turbojets
Thrust: 10,050 lbst each
Length: 108 ft. 3 in.
Height: 32 ft. 2 in.
Wingspan: 114 ft. 4 in.
Speed: Maximum - 567 m.p.h. at 30,000 ft. (Mach 0.84)
Maximum - 414 m.p.h. at sea level
Cruising - 553 m.p.h. at 30,000 ft. (Mach 0.82)
Cruising - 495 m.p.h. [economic]
Ceiling: 54,000 ft.
Weight: 75,881 lb. - Empty
Maximum Takeoff Weight: 175,000 lb.
Armament: One 10,000 lb thermonuclear bomb, or 21*1000lb iron bombs.