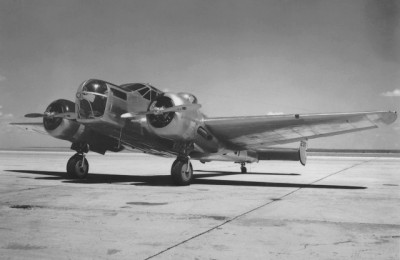 The AT-11 was the standard WW II bombing trainer; about 90 percent of the more than 45,000 AAF bombardiers trained in AT-11s. Like the C-45 transport and the AT-7 navigation trainer, the Kansan was a military version of the Beechcraft Model 18 commercial transport. Modifications included a transparent nose, a bomb bay, internal bomb racks, and provisions for flexible guns for gunnery training.
Student bombardiers normally dropped 100-lb. sand-filled practice bombs. In 1943, the AAF established a minimum proficiency standard of 22 percent hits on target for trainees. Combat training missions were flown taking continuous evasive action within a ten-mile radius of the target and final target approaches had to be straight and level and no longer than 60 seconds. After September 30, 1943, these missions were generally flown using the Norden Bombsight and the C-1 automatic pilot, the aircraft being guided by the bombardier student during the bombing run.
SPECIFICATIONS
Span: 47 ft. 7 3/4 in.
Length: 34 ft. 1 7/8 in.
Height: 9 ft. 7 3/4 in.
Weight: 9,300 lbs. maximum
Armament: Two .30-cal. machine guns when used as a gunnery trainer
Engine: Two Pratt & Whitney R-985 of 450 hp. each
Cost: $67,000
PERFORMANCE
Maximum speed: 215 mph.
Cruising speed: 150 mph.
Range: 745 miles
Service Ceiling: 20,000 ft.