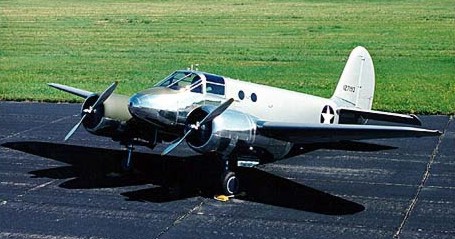 In 1940-41 the Beech Aircraft Company designed an advanced multi-engine trainer for ease and speed of manufacture on a large scale and named it the "Wichita." To conserve scarce metals needed for combat aircraft, Beech built the airframe out of plywood with only the engine cowlings and cockpit enclosure constructed of aluminium. The fuel tanks also were made of wood and covered with neoprene, a synthetic rubber. The extensive use of wood permitted Beech to subcontract the production of many components to furniture makers and other firms. This advanced trainer, designated the AT-10, had superior performance among twin engine trainers of its type and over half of the Army Air Force's pilots received transitional training from single- to multi-engine aircraft in them. Between 1941 and 1943 Beech built 1,771 AT-10s and Globe Aircraft Corporation (which became Temco after World War II) built 600 in Dallas, Texas. The Museum placed this AT-10 on display in June 1997.
SPECIFICATIONS
Span: 44 ft. 0 in.
Length: 34 ft. 4 in.
Height: 10 ft. 4 in.
Weight: 6,465 lbs.
Armament: None
Engine: Two Lycoming R-680-9 radials of 295 hp. each
PERFORMANCE
Maximum speed: Approximately 190 mph/165 knots
Range: Approximately 660 statute miles/572 nautical miles
Service Ceiling: Approximately 20,000 ft.