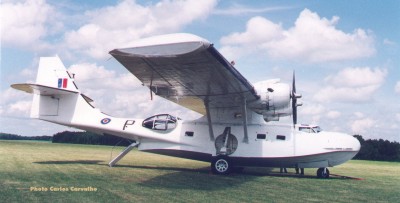 With the requirement for a patrol flying-boat to offer greater range and load carrying capability than the Consolidated P2Y or Martin P3M, which were in service in the early 1930s, the US Navy contracted Consolidated and Douglas in October 1933 to build competing prototypes, designated Consolidated XP3Y-1 and Douglas XP3D-1. Only a single prototype of the Douglas design was built. Consolidated's XP3Y-1, however, was developed to become the most extensively-built flying-boat in aviation history.
Consolidated identified their design to meet the US Navy's requirements as the Consolidated Model 28 and this, like the P2Y which preceded it, had a parasol-mounted wing. At that time the principle aircraft in the category was the Consolidated P2Y, designed at Buffalo by Isaac M. "Mac" Laddon, a gifted seaplane engineer and a director of Consolidated Aircraft. To meet the new demand by the US Navy, he cleaned up the P2Y by giving it an almost to cantilever wing mounted above the shallow but broad hull on a central pylon housing the flight engineer. The wing differed from that of the P2Y by having a regular centre-section and tapered outer panels. all of stressed skin all-metal construction (ailerons were fabric covered).
In the new design the introduction of internal bracing resulted in a wing which was virtually a cantilever, except for two small streamline struts between hull and wing centre-section on each side. Thus the Model 28 was free of the multiplicity of drag-producing struts and bracing wires which had limited the performance of earlier designs. Another innovation adding to aerodynamic efficiency was the provision of stabilising floats which, when retracted electrically in flight, formed streamlined wingtips. The two-step hull design was very similar to that of the P2Y, but the Model 28 had a clean cruciform tail unit which was a cantilever structure. In the bow was a mooring compartment and transparent sighting window with a Venetian blind giving sea water protection. The bow cockpit was a turret with large all-around windows in production aircraft, with a machine-gun above. Two pilots sat side-by-side in the wide cockpit with large windows all round. The powerplant of the prototype comprised two 825 hp (615 kW) Pratt & Whitney R-1830-54 Twin Wasp engines neatly cowled on the centre-section with cooling gills and driving Hamilton variable-pitch propellers. Armament comprised four 7.62 mm (0.30 in) machine-guns and up to 2,000 lbs (907 kg) of bombs.
With the massive order for 60, Consolidated had plenty of work to support its 2,000 mile (3220 km) move to San Diego, in southern California, where weather was fine all through the year. In October 1935 the XP3Y made a non-stop flight of almost 3,500 miles (5633 km) from Coco Solo to San Francisco. It then went on to participate in the dedication of the giant new Consolidated San Diego plant on 20 October 1935.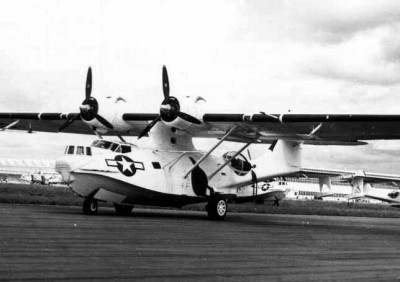 First flown on 28 March 1935, the XP3Y-1 was soon transferred to the US Navy for service trials, which confirmed a significant improvement in performance over the patrol flying-boats in service. Its extended range and improved load carrying capability caused the US Navy to request further development to bring this new aircraft into the category of a patrol-bomber, in late October 1935 the prototype was returned to Consolidated in Buffalo for modifications that included a broad rounded rudder, de-icer boots on all leading edges (with pull-out steps up the leading edge of the fill), full armament and combat equipment as well the installation of the 900 hp (671 kW) R-1830-54 engines which had been specified for the 60 examples of the PBY-1 (a patrol-bomber designation) which had been ordered on 29 June 1935. At the same time redesigned vertical tail surfaces were introduced and the XPBY-1, as this prototype was redesignated, flew for the first time on 19 May 1936. After completing its trials this aircraft was delivered to US Navy Squadron VP-11F during October 1936, in which month the first of the PBY-1s began to reach the squadron. Unquestionably this was the best patrol flying-boat in the world at that time.
On 25 July 1936 Consolidated received a contract for 50 PBY-2s with all four wing racks stressed to 1,000 lbs (454 kg) loads and with 12.7 mm (0.50 in) machine-guns in the waist positions. On 27 November 1936 an order followed for 66 PBY-3s with R-1830-66 Twin Wasp engines uprated from 900 hp (671 kW) to 1,000 hp (746 kW) R-1830-66 Twin Wasp engines, and on 18 December 1937 a contract followed for 33 PBY-4s with 1,050 hp (783 kW) R-1830-72 Twin Wasp engines. All but the first examples of the PBY-4 introduced large transport blisters over the waist gun positions, in place of sliding hatches, and these became a characteristic feature of all subsequent production aircraft. Two more PHYs were sold in 1937 to explorer Dr Richard Archbold, who named them Cuba I and Cuba II (Motu word for a sudden storm). Cuba II spent an arduous year in New Guinea, finally making the fIrst flight across the Indian Ocean to survey the route known in World War II as the 'horseshoe route' on which hundreds of military and BOAC Catalinas were to fly. It then crossed Africa and the Atlantic, the first aircraft to circle the globe near the Equator. Cuba I was sold to a Soviet expedition led by Sir Hubert Wilkins which flew 19,000 miles (30600 km) through the worst weather in the world fruitlessly searching for S. A. Levanevskii, who vanished near the North Pole on 13 August 1937.
In April 1939 the last example of the PBY-4 production aircraft was returned to the company for the installation of wheeled landing gear so that these aircraft could operate as amphibians, thus making them far more versatile. This aircraft, when completed in November 1939, emerged with the designation XPBY-5A, Testing confirmed the very considerable advantages of the amphibian configuration and the 33 aircraft outstanding on US Navy contracts for the PBY-5 variant were completed as PBY-5A amphibians with an additional 134 PBY-5As contracted on 25 November 1940.
From mid-1937 PBYs were introduced rapidly into service with the US Navy, and by the time that the USA became involved in world War II some 21 squadrons were equipped, 16 with PBY-5s, two with PBY-4s and three with PBY-3s.
Before this, however, interest shown by the Soviet Union resulted in an order for three aircraft (Model 28-2) and the negotiation of a licence to build the type in Russia when these three machines were delivered they were accompanied by a team of Consolidated engineers who assisted in establishment of the Russian production facilities at Taganrog on the Azov Sea. Designated GST (civil transport version MP-7), these production aircraft were powered by Mikulin M-62 radial engines (in Polikarpov I-16 type shuddered cowlings) a developed version of the M-25 (licence-built Wright Cyclone), which had a power rating of 900-1,000 hp (671-746 kW). The first of the GST's began to appear in late 1939 and an unspecified number certainly running over a thousand, were built during the war for service with the Soviet Navy. All aircraft used Soviet armaments and equipment.
European interest started with purchase by the British Air Ministry of a single aircraft for evaluation (serial P9630), this being identified by Consolidated as the Model 28-5. Flown across the Atlantic, the aircraft was allocated to the Marine Aircraft Experimental Establishment at Felixstowe, Suffolk in July 1939. The outbreak of war anticipated the termination of trials, but with little doubt of the excellence of the design, it was adopted as the standard boat for Coastal Command with the first batch of 50 being ordered under the designation Catalina Mk I, a name later adapted by the US Navy. the first RAF variant was similar to the latest US Navy type, the PBY-5 with 1,200 hp (895 kW) R-1830-92 engines, an order for 200 of which had been placed on 20 December 1939.
Initial deliveries of the RAF's Catalinas began in early 1941, these entering service with Nos. 209 and 240 Squadrons of Coastal Command. Catalinas subsequently equipped nine squadrons of Coastal Command, as well as an additional 12 squadrons serving overseas. The RAF received about 700 of these aircraft which, with the exception of 11 PBY-5As diverted to Britain from the US Navy order, were all non-amphibious flying-boats. They comprised 100 of the Catalina Mk I equivalent to the US Navy's PBY-5, 225 of the Catalina Mk 1B (PBY-5B), 36 of the Catalina Mk IIA (PBY-5), 11 of the Catalina Mk III (PBY-5A), 97 of the Catalina Mk IVA (PBY-5), 193 of the Catalina Mk IVB, which was built by Boeing Aircraft of Canada under the designation PB2B-1 and was generally similar to the non-amphibious PBY-5, and 50 of the Catalina Mk IV, the Boeing-built PB2B-2 which had the taller vertical surfaces first introduced on the NAF PBN-1. No Catalina Mk Vs served with the RAF, this designation being allocated for potential supplies of NAF PBN-1s, none of which was in the event sent to Great Britain.
Soon after receipt of the UK's first order for production aircraft, Consolidated received a French purchasing mission which, in early 1940, ordered 30 aircraft. Allocated the company's identification Model 28-5MF, none of these was delivered before the collapse of French resistance. Other foreign orders received at about the same time covered 18 aircraft for the Royal Australian Air Force, and 48 ordered by the Dutch government for use in the Netherlands East Indies.
Canada had its own close associations with the Catalina, both as manufacturer and customer. Seeking greater production capacity the British helped arrange for licence production in Canada, and under an agreement reached between the Canadian and US governments production lines were laid down in Canada, by Boeing Aircraft of Canada at Vancouver and by Canadian Vickers at Cartierville (Montreal). At this time the Consolidated plant in San Diege doubled its size.
Extensive service use of the PBYs suggested that the hull would benefit from hydrodynamic improvement. So in 1941, The Naval Aircraft Factory at Philadelphia (the source for all previous US Navy flying-boat design) carried out the necessary research and development work to achieve this end. This course was adopted in order that design changes would not interfere with the major production coming from Consolidated. The NAP Catalina, the PBN-l, had a wing re-stressed for 38,000-lb (17237-kg) gross weight, with increased tankage, redesigned wingtip floats and struts, and a new hull with a longer and sharper bow, 20 degree step amidships, and rear step extended about 1.52 m (5 ft) aft; most obvious of the changes was the tall vertical tail, with a balanced rudder, and armament was generally increased to three or more 12.7 mm (0.50 in) machine-guns (only the ventral tunnel retained the rifle-calibre gun) with a rounded bow turret and improved continuous-feed magazines. Another change was a redesigned electrical system of increased capacity , with the batteries moved from the leading edge down to the hull. The NAF itself receiving an order for 156 of these modified aircraft under the designation PBN-1 Nomad, eventually delivering 138 aircraft. Consolidated (by this time Convair) opened yet another plant at New Orleans to build the best Catalinas of all, the amphibious version of the PBN (later designated PBY-6A).
Boeing production totalled 362 aircraft, these comprising 240 PB2B-1s supplied to Australia, New Zealand and the UK. 50 PB2B-2s for the UK, 17 non-amphibious Catalinas for the Royal Canadian Air Force and 55 amphibians which, in RCAF service, were designated Canso. Aircraft produced by Canadian Vickers totalled 379 equivalent to the PBY-5A, of which 149 were supplied to the RCAF. From the balance of 230 the US Navy planned to acquire 183 under the designation PBV-1A; in fact the US Navy received none of these, all being supplied to the USAAF which had previously acquired 56 PBY-5As as a direct transfer from the US Navy and which it designated OA-10. These were used throughout World War II for search and rescue missions, some carrying an air dropped lifeboat beneath each wing. The 230 aircraft built by Canadian Vickers were designated OA-10A in USAAF service, and the final production aircraft to be received were 75 PBY-6As built by Consolidated, and which were designated OA-1OB.
On 22 November 1939 Consolidated flew a PHY-4 rebuilt as the XPBY-5A with retractable tricycle landing gear. This excellent amphibian conversion was a great success and had only a minor effect on performance. The final 33 PBY-5s were completed as PBY-5As, and another 134 were ordered in November 1940. At the time of Pearl Harbour (7 December 1941) the US Navy had three squadrons of PBY-3s, two of PBY-4s and no fewer than 16 flying the new PBY-5. Before sunrise on that day a PBY crew spotted the periscope of a Japanese submarine at Pearl Harbour, marked it With smoke and guided the destroyer USS Ward, which sank it (the first US shots of World War II over an hour before the air attack began). By this time a further 586 PBY-5s had been ordered, and the export list had risen to 18 for Australia, 50 for Canada, 30 for France and 36 for the Netherlands East Indies. In 1942 another 627 PBY-5As were added, of which 56 were to be OA-l0s for the USAAF, used for search and rescue. The first Lend-Lease batch for the RAF comprised 225 non-amphibious PBY-5Bs (Catalina Mk IAs) followed by 97 Catalina Mk IVAs, fitted in Britain with ASV Mk II radar. RAF Catalinas usually had a Vickers K (VGO) machine-gun in the bow and twin 7.7 mm (0.303 in) Brownings in the waist blisters.
RAF Catalina operations began in spring 1941 with Nos. 209 and 210 Squadrons, and one of the first to become operational was a machine of No. 209 from Castle Archdale which on 26 May 1941 was far out over the Atlantic, with the crew under Pilot Officer Briggs being checked out by a 'neutral' lieutenant in the US Navy. Suddenly they spotted a giant warship which turned out to be the Bismarck, which had eluded all pursuers for 31 1/2 hours. Despite heavy flak the Catalina radioed the 'battleship's position and kept her in view until another Catalina from No. 240 Squadron took over and guided the British fleet to the spot. Apart from this epic, almost all Coastal Command missions by more than 650 Catalinas were against U-boats, many of the 15 to 20 hour trips ending at Grasnaya (Murmansk) and Arkhangelsk protecting convoys supplying the Soviet Union. The only shortcoming of the Catalina was that its slow speed often gave a U-boat time to dive after being spotted. They were so slow in fact that crews often said they need calendars rather than stopwatches to rendezvous with convoys. By 1943 U-boats stayed on the surface, bristling with flak, and two Catalina skippers won the Victoria Cross, one posthumously, for pressing home their attacks on heavily armed U-boats under almost unbelievable conditions.
Life was equally tough in the Pacific where the Catalina was from 7 December 1941 by far the most important US patrol aircraft. In the northern campaign along the Aleutians many Catalinas had to make overloaded downwind take-offs in blizzards at night, with ice over the windscreen. The PBY was the first US aircraft (other than the obsolete Douglas B-18) to carry radar. They fulfilled diverse missions including those of torpedo-bomber, transport and glider tug. Perhaps the most famous of all Catalinas were the Black Cat PBY-5A amphibians which, painted matt black, roamed the western Pacific from December 1942, finding Japanese ships of all kinds by radar at night and picking up Allied survivors from ships and aircraft in boats and dinghies. In addition to radar, bombs, depth charges and fragmentation grenades, the Black Cats often carried crates of empty beer bottles whose eerie whistling descent deterred Japanese gunners and caused wasted time looking for unexploded bombs.
The final production version was built by Consolidated, between April 1944 and April 1945, the NAF's improvements and others were incorporated in a model designated PBY-6A. This usually carried a centimetric radar in a neat pod above the cockpit, and the bow turret usually had twin 12.7-mm (0.50 in) guns. An order was placed for 900, but the end of the war cut this to 48 for the Soviet Union (which also received all but one of the PHNs), 75 as OA-l0Bs for the USAAF and 112 for the US Navy. Fifty more were delivered by Boeing from Vancouver as PB2B-2s, designated Catalina Mk VI by the RAF .
Total production of all versions of the Consolidated Model 28 considerably exceeded 3,000. Of these 2,398 were delivered by Consolidated Aircraft and Convair (the March 1943 name for the merged Consolidated and Vultee-Stinson companies). Some 892 were built by the NAF and by the two Canadian plants, and 27 were built in the Soviet Union.
Specifications (Consolidated PBY-5A Catalina - Model 28)
Type: Seven or Nine Seat Maritime Patrol Bomber & Search and Rescue Amphibian
Design: Isaac M. "Mac" Laddon of the Consolidated Aircraft Corporation
Manufacturer: Consolidated Aircraft Corporation in Buffalo and San Diego, Convair in New Orleans (In 1943 Consolidated and Vultee-Stinson merged, becoming Convair), The Naval Aircraft Factory in Philadelphia, Boeing Aircraft of Canada in Vancouver and Canadian Vickers in Cartierville (Montreal)
Powerplant: (PBY-5A) Two 1,200 hp (895 kW) Pratt & Whitney R-1830-92 Twin Wasp 14-cylinder radial engines. (PBY-1) Two 900 hp (671 kW) Pratt & Whitney R-1830-64 radial engines. (PBY-3) Two 1,000 hp (746 kW) R-1830-66 Twin Wasp radial engines. (PBY-4) Two 1,050 hp (783 kW) R-1830-72 Twin Wasp radial engines.
Performance: Maximum speed 179 mph (288 km/h) at 7,000 ft (2135 m); long range cruising speed 117 mph (188 km/h); service ceiling 14,700 ft (4480 m); Initial Climb Rate of 650 ft/min (198 m/min).
Fuel: (Maximum) 1,750 US gallons (6624 litres) total, in two fuel tanks (one per wing) each holding 875 US gallons (3312 litres).
Range: Maximum range 2,545 miles (4096 km) with maximum fuel loadout. Range with full military load 2,350 miles (3782 km).
Weight: Empty 20,910 lbs (9485 kg) with a maximum take-off weight of 35,420 lbs (16066 kg).
Dimensions: Span 104 ft 0 in (31.70 m); length 63 ft 10 1/2 in (19.47 m); height 20 ft 2 in (6.15 m); wing area 1,400.0 sq ft (130.06 sq m).
Armament: Two 7.62 mm (0.30 in) Browning machine guns in the bow turret, one 7.62 mm (0.30 in) Browning machine-gun firing aft through the rear ventral hatch and two 12.7 mm (0.50 in) Browning machine-guns (one in each beam position), plus up to 4,000 lbs (1814 kg) of ordnance on four underwing hardpoints. RAF Catalinas usually had a Vickers K (VGO) Machine-gun in the bow and twin 7.7 mm (0.303 in) Browning machine-guns in the waist blisters. Ordnance could consist of any of the following, but was limited to four hardpoints - four 450 lbs (204 kg) Depth charges or two Mark XIII Torpedoes or four 500 lbs (227 kg) or 1,000 lbs (454 kg) of bombs. The PBY was also capable of carrying a Smoke Generator Tank.
Variants: XP3Y-1/XPBY-1 (Prototype), PBY-2, PBY-3, PBY-4, XPBY-5A, PBY-5, PBY-5A, PB-1 Nomad (NAF), PBY-6A, PB2B-1 (Boeing), GST (Soviet military), MP-7 (Soviet civil transport), Model 28-5MF. Models with "A" suffix were amphibians. Some PBY-4s and PBY-5s were converted to a mine warfare role, identified by a large ring around the aircraft which generated a large electrical field that detonated magnetic mines. USAAF aircraft used for search and rescue could carry an air-dropped lifeboat under each wing.
Avionics: (PBY-6A) Centrimetric radar.
History: First flight (XP3Y-1) 28 March 1935; first flight (XPBY-1) 19 May 1936; first flight (XPBY-5A) 22 November 1939; contract order (PBY-1) 29 June 1935; initial deliveries (PBY-1) October 1936; contract order (PBY-2) 25 July 1936; contract order (PBY-3) 27 November 1936; contract order (PBY-4) 18 December 1937; contract order (PBY-5A) 25 Novmeber 1940; production (PBY-6A) April 1944 to April 1945.
Operators: United States (USN, USAAF), Canada (RCAF), United Kingdom (RAF Coastal Command), Australia (RAAF), New Zealand (RNZAF), Soviet Union (built under licence).