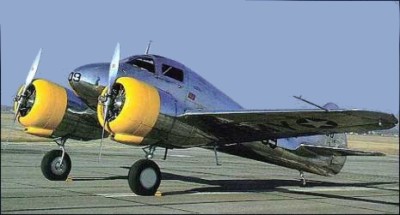 The AT-9 advanced trainer was used to bridge the gap between single-engine trainers and twin-engine combat aircraft. The prototype first flew in 1941, and the production version entered service in 1942. the prototype had a fabric-covered steel tube fuselage and fabric-covered wings, but production AT-9s were of stressed metal skin construction. The AT-9 was not easy to fly or land, which made it particularly suitable for teaching new pilots to cope with the demanding flight characteristics of a new generation of high-performance, multi-engine aircraft such as the Martin B-26 and Lockheed P-38. Although the AT-9 originally bore the nickname "Fledgling," it was more widely known as the "Jeep." Four hundred ninety-one AT-9's and three hundred AT-9A's were built before production ended in February 1943.
SPECIFICATIONS
Span: 40 ft. 4 in.
Length: 31 ft. 8 in.
Height: 9 ft. 10 in.
Weight: 6,062 lbs. loaded
Armament: None
Engines: Two Lycoming R-680-9s of 295 hp. ea.
Crew: Two
Cost: $34,900
Serial Number: 41-12150
C/N: 362
PERFORMANCE
Maximum speed: 197 mph.
Cruising speed: 173 mph.
Range: 750 miles
Service Ceiling: 19,000 ft.