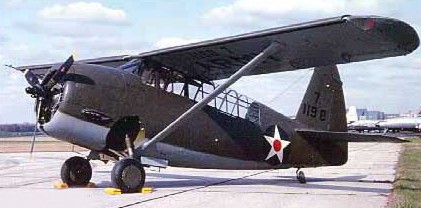 In 1940, the Air Corps ordered 203 Curtiss O-52s for observation duties. Upon delivery, the airplane was used in military manoeuvres with the U.S.A., but following America's entry into WW II, the AAF determined that the airplane did not possess sufficient performance for "modern" combat operations in over-sea areas. As a result, the O-52 was relegated to courier duties within the U.S.A. and short-range submarine patrol over the Gulf of Mexico and Atlantic and Pacific Oceans.
The O-52 was the last "O" type airplane procured in quantity for the Air Corps. Following the attack on Pearl Harbour, the "O" designation was cancelled and "L" for liaison type airplanes was adopted to replace it.
SPECIFICATIONS
Span: 40 ft. 9 1/2 in.
Length: 26 ft. 4 3/4 in.
Height: 9 ft. 11 1/2 in.
Weight: 5,364 lbs. loaded
Armament: One forward and one rearward firing .30-cal. machine gun
Engine: Pratt & Whitney R-1340-51 of 600 hp.
Cost: $31,000
Serial Number: 40-2763
C/N: 14296
PERFORMANCE
Maximum speed: 215 mph.
Cruising speed: 169 mph.
Range: 455 miles
Service Ceiling: 23,200 ft.