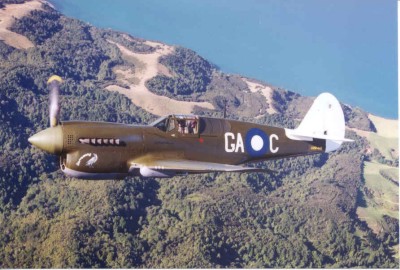 The Curtiss P-40 was undoubtedly one of the most controversial fighters to serve in quantity during the Second World War. It was praised and abused, lauded and vilified, but the fact remains that, as the first American single-seat fighter to be manufactured on a mass-production basis, it bore much of the brunt of the air warfare over several battle fronts. Its performance was inferior to the performances of the majority of its antagonists, but this shortcoming was partly compensated for by its tractability and its sturdiness which enabled it to withstand a considerable amount of punishment. It was amenable to adaptation and it was available when most sorely needed.
Not particularly good technically or in performance, though very durable, P-40s continued to be produced until the end of 1944, serving also with air force units of Turkey, South Africa, Canada, Australia and New Zealand. Later versions were known as Kittyhawks to the RAF and its Allies. Not usually realized is that the name Warhawk applied only to the United States Army Air Force P-40s starting with the P-40F version, a much improved plane with a license built version of the British Rolls-Royce Merlin engine installed.
The belief in the "ascendancy of bombardment over pursuit" was rife in 1937 when the Curtiss P-40 was first envisaged, and it is a sobering thought that, with the Bell P-39 Airacobra this product of such a school of thought constituted more than half the strength of all U.S.A.A.F. fighters until July 1943. Prior to September of that year the P-39 and P-40 also comprised more than half the U.S.A.A.F. fighters committed overseas. However, by July 1945 only one P-40 group remained operational.
The prototype P-40 took to the air in the autumn of 1938, and production was initiated in the following year. Performance of the first version of this single-seat fighter had not really come up to expectations, but as several air forces were desperate for new aircraft, the type was welcomed into service. The US had delayed modernizing its Army Air Service until the last minute, so P-40s made up a large part of their equipment during the first years of war. Britain and France also ordered P-40s to contend with the German Luftwaffe, but in the case of France, deliveries came too late and their P-40s were diverted to the Royal Air Force - to be known as Tomahawks. Similarly, the Soviet Union's outdated air force had fared badly at the hands of the Germans, and P-40s were also sent there.
The P-40 was initially designed around the Allison V-1710 liquid-cooled inline engine which offered better streamlining, more power per unit of frontal area, and better specific fuel consumption than did air-cooled radials of comparable power. Unfortunately, the rated altitude of the Allison engine was only some 12,000 feet, rendering combat above 15,000 feet a completely impracticable proposition. The P-40's ancestry dated back as far as 1924; the famed Curtiss Hawk fighters being in the forefront of all U.S. warplanes. But its development was hindered from the start. The overall limitations of its design were such that the addition of multi-speed superchargers was considered inadvisable in view of the pending production of superior fighter designs. The achievements of the P-40 were therefore all the more creditable.
The Curtiss P-40 served during most of the Second World War with one air force or another, and under several different names including Tomahawk and Kittyhawk in Britain and Warhawk in the United States.
The prototype XP-40, the Curtiss Hawk Model 81, owed its origin to the earlier Model 75 of 1935 vintage. With the standardization of the Allison V-1710 , the P-36 design was reworked to incorporate this engine, becoming the XP-37 which was equipped with a General Electric turbo-supercharger, and featured numerous other modifications, including a rearward positioned cockpit. Thirteen YP-37s were built for service evaluation; but, with increasingly ominous signs of an approaching war, development of this fighter was abandoned in favour of a less complex and more direct conversion of the P-36 for the Allison engine, the XP-40. This was, in fact, the tenth production P-36A with an integrally-supercharged 1,160 h.p. Allison V-1710-19 (C13) engine, and first flew with its new power plant in the autumn of 1938. Successful in a U.S. Army Pursuit Contest staged at Wright Field, in May 1939 it was awarded what was at that time the largest-ever production order for a U.S. fighter, totalling nearly thirteen million dollars.
The P-40 was a relatively clean design, and was unusual for its time in having a fully retractable tail wheel. One hundred and ninety-seven P-40s were built in 1939-40 for the U.S.A.A.F., and many more were sold abroad to Britain and France. In the R.A.F., which service purchased 140 outright, it was known as the Tomahawk Mk. I, IA, and IB, and carried two 0.303-in. Browning machine-guns in place of the 0.30-in. calibre guns fitted in U.S.A.A.F. machines. It retained the standard synchronized armament of two 0.5-in. calibre machine-guns in the top nose decking.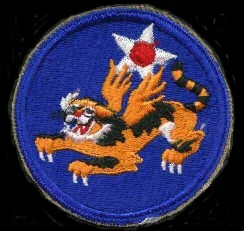 Shoulder patch of the American Volunteer Group Chinese Nationalist Air Force - ' The Flying Tigers '
Development
Last of the famous Hawk line, the Curtiss P-40 Warbawk has always been something of an enigma. By no stretch of the imagination could it be numbered among the 'great' fighter aircraft of World War II. Yet, with the exceptions of the Republic P-47 and North American P-51, it was the most extensively built US fighter, with 15,000 delivered before production ended in December 1944.
Evolution towards the aircraft which the company designated the Model 81 began in 1937, when the Model 75 prototype's airframe was modified to accept a 1,150 hp (858 kW) Allison V-1710-11 inline. In this form the Model 751 became the first American fighter capable of a speed exceeding 300 mph (483 km/h). The Model 751 was evaluated by the USAAC as the XP-37: despite engine and supercharger difficulties, the potential of the design was clear, and the service ordered 13 of the YP-37 service test model with the improved V-1710-21 engine and slightly longer fuselage. The new B-2 supercharger was also fitted, but all YP-37s continued to suffer problems with the powerplant installation.
A little later the tenth P-36A was re-engined with a 1,160 hp (865 kW) Allison V-1710-19 engine, instead of the 1,050 hp (783 kW) Pratt & Whitney R-1830-13 radial which was standard. In other respects it varied little from the P-36A when it was flown for the first time on 14 October 1938. In May 1939 this Model 75P, by then designated XP40, was flown in competition against other pursuit prototypes and was selected for production as most closely meeting US Army Air Corps requirements. A total of 524 P-40 production aircraft (Model 81) was ordered on 27 April 1939, this then representing the largest single order for fighters to originate from the US Army. Just over a year later, in May 1940, the first P-40s began to come off the production line, the initial three being used for service trials. These differed from the initial XP-40, with a less powerful supercharged Allison V-1710-33 engine installed and two 7.62 mm (0.30 in) machine guns in the wings to supplement the two 12.7 mm (0.50 in) machine guns mounted in the fuselage nose. By September 1940 a total of 200 of these aircraft had been delivered to the USAAC.
Before that, in April 1940, production priority had been accorded to delivery of 185 generally similar Hawk 81-Al fighters ordered by France. None, however, left the assembly line before that nation's collapse and, instead, these aircraft were diverted to the UK where they were designated Tomahawk Mk 1. Deliveries to England and to Takoradi in West Africa, began in late 1940, but the Tomahawk was unsuited for operational employment in Europe and the majority were relegated to training duties.
The next version for the RAF (Hawk 81-A2) was designated Tomahawk Mk IIA and this, basically the same as USAAC's P-40B (Model 81-B), had self-sealing fuel tanks, armour, and was armed with two wing-mounted 7.7 mm (0.303 in) machine guns. Unfortunately, the increased weight resulting from these improvements reduced performance, while improved self-sealing tanks and the addition of two more wing guns on the P-40C brought a further erosion of performance. A total of 930 of this version was built for the RAF (Hawk 81-A3), those which entered service being designated Tomahawk Mk IIB. These had US radio equipment but were armed with six 7.7 mm (0.303 in) machine guns. A total of 100 of the allocation of Hawk 81-A3s for the RAF was diverted to China, 90 of these reaching the American Volunteer Group (AVG) operating from Kunming and Mingaladon; 49 shipped direct from the USA, plus 146 re-shipped from Great Britain, were supplied to the Soviet Union, and a small number went to the Turkish air force.
Some American P-40s were modified in 1941 to serve in a reconnaissance role, under the designation RP-40, but Curtiss had already begun redesign of the Hawk 81-A in an attempt to improve its performance and effectiveness. The changes included installation of the 1,150 hp (858 kW) Allison V-1710-39, which could maintain this power output to an altitude of 11,700 ft (3565 m), and the addition of armour, provision of four 12.7 mm (0.50 in) wing-mounted machine guns, and an underfuselage hardpoint for the carriage of a 500 lbs (227 kg) bomb or 52 US gallon (197 litre) fuel drop tank. First flown on 22 May 1941 as the Kittyhawk Mk I, having been ordered as such by the UK, it was identified as Hawk 87-A2 by Curtiss, and as the P-40D by the USAAC, which had also ordered this version in September 1940. Only the first 22 aircraft delivered to the USAAF had the armament of four wing-mounted guns, subsequent deliveries having six guns and the designation P-40E (Model 87-B2). A total of 1,500 of this version, identified as the P-40E-1 (Hawk 87-A3 and -A4), was procures by the USAAF for supply to Britain under Lend-Lease, the model being designated Kittyhawk Mk IA in RAF service; in addition large numbers of this version were supplied to British Commonwealth air forces. Other P-40E were supplied to Brigadier Generel Claire Chennault's AVG in China where deployed with considerable skill, the P-40 in several variants achieved notable success against Japanese aircraft. A few P-40Es were converted as two-seat trainers, losing their fuselage tank to provide space for the second cockpit.
Throughout the next three years Curtiss made tremendous efforts to improve the capability of the P-40, resulting in a number of variants (see below). Despite all the effort, which resulted in quite considerable improvement, it left performance of the Warhawk below that of contemporary Allied and Axis fighters and production ended in December 1944.
Variants
P-40A: retrospective designation of a single camera-carrying P-40 (serial 40-326).
XP-40F: designation of a single experimental aircraft (Model 87-B3) combining a P-40D airframe and a Rolls-Royee Merlin 28 inline engine.
P-40F: production version resulting from above, powered by a 1,300 hp (969 kW) Packard-built V-1650-1 Merlin; more than 1,300 built.
XP-40G: a single prototype (Model 81-AG) with armament and fuel tank changes.
P-40G: 43 P-40s retrofitted with Tomahawk Mk IIA wings; 16 were sent to Russia in late 1941, and in October 1942 those in US service were redesignated RP-40G.
P-40J: designation allocated to a version to be powered by a turbocharged Allison engine; not built.
P-40K: virtually an improved version of the P-40E powered by an Allison V-1710-73 engine; 1,300 built, of which the RAF received 21, designating them Kittyhawk Mk III.
P-40L: version generally similar to P-40F except for equipment changes; 700 built.
P-40M: version generally similar to the P-40K but powered by an Allison V-1710-71 engine and with detail improvements; almost 400 supplied to the RAF which designated them Kittyhawk Mk Ill.
P-40N: major and final production version of which 5,200 built (Model 87V and Model 87W variants); improved performance achieved by weight saving and by use of Allison V-1710-81 engine or, subsequently, similar powered -99 or -115 versions of that engine; lighter weight and improved equipment incorporated during production run; supplied also to Australia, China, South Africa, UK (RAF designation Kittyhawk Mk IV) and Soviet Union.
P-40P: designation initially allocated to 1,500 aircraft ordered with V-1650-1 engine but actually built as P-40Ns with V-1710-81 engines.
XP-40Q: designation allocated to two P-40Ks and one P-40N modified extensively as Model B7X, including the installation of two-stage superchargers and bubble canopy, to achieve improved performance.
P-40R: designation of P-40F and P-401 aircraft following conversion to trainers in 1944, with Allison engines replacing the original Packard Merlin engines.
TP-40: designation given to some P-40s following conversion to two-seat pilot transition trainers.
Twin-Engined P-40: proposed variant of 1942, a P-40C being mocked up with two Merlin powerplants (from P-40F/Kittyhawk Mk II aircraft) on the wings above the main landing gear.
Kittyhawk Mk II: RAF designation for 330 P-40Fs and P-40Ls received under Lend-Lease; the first 230 are sometimes known under the designation Kittyhawk Mk IIA.
Model 81-AC: 40 conversions of P-40Cs to British specification.
Model 81-AG: conversions of P-40s to P-40G, plus one XP-40G prototype.
Model 87: first batch of P-40Ds.
Model 87-A1: unknown number ordered by France but not delivered.
Model 87-AS: sub-variant of Model 87-A4 order.
Nicknames: Gipsy Rose Lee (UK nickname for the P-40L)
Specifications: (P-40N):
Engine: 1360hp Allison V-1710-81 inline piston engine
Weight: Empty 6,000 lbs., Max Takeoff 11,400 lbs
Wing Span: 37ft. 4in.
Length: 33ft. 4in.
Height: 12ft. 4in.

Performance:
Maximum Speed at 10,000ft: 378mph
Ceiling: 38,000ft
Range: 240 miles (with no external tanks)

Armament:
Six 12.7mm (0.5-inch) wing-mounted machine guns
Up to 1,500lbs of bombs on three wing hardpoints
Number Built: Approximately 15,000
Number Still Airworthy: 19