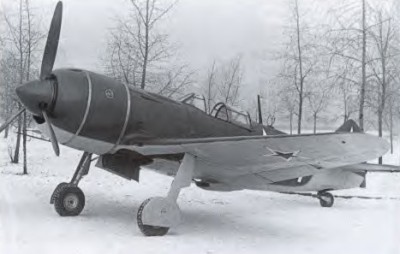 A Lavochkin La-7 fresh from the factory on display in Moscow in early 1945
The La-7 was as an improvement of the existing La-5FN. This plane had a more powerful engine and better armament and incorporated aerodynamic improvements. The Shvetsov radial engine generated 1,850 hp (1380 kw), and the armament was increased to three ShVak 20 mm cannon. The engine cowl was smoothed, the oil radiator was moved to the lower centre of the fuselage. The most striking result of these improvements was an increase of some 20 mph (32 km/h) in speed over the La-5FN. The installation of a liquid rocket engine in the rear of the fuselage was also studied in hopes of providing better performance for short periods. In tests with the rocket engine installed, the aircraft gained a 10 - 15 percent increase in speed.

Lavochkins were well liked by their pilots (in spite of bad takeoff and landing characteristics), and some of Russia's top aces flew them, including Ivan Kozedub, three time hero of the Soviet Union, the number one allied ace with 62 victories, all of them while flying Lavochkin fighters. The last was a La-7 which he received in July, 1944. He shot down 17 German aircraft, one of them being a Messerschmitt Me-262 jet.
La-7
Model developed from the La-5FN with improved high altitude performance.
La-7R
Two conversions of La-7s with booster rocket in rear fuselage. Experimental only.
La-7TK
Conversion of one La-7 with two TK-3 turbochargers installed to give improved high altitude performance. Experimental only.
La-126
Experimental version with revised wings and a PVRD-430 auxiliary ramjet engine mounted beneath each wing.
Specifications (Lavochkin La-7)
Type: Single Seat Interceptor Fighter
Design: Semyon Alexseyevich Lavochkin
Manufacturer: State Industries
Powerplant: One 1,850 hp (1380 kw) Shvetsov M-82FN (Ash-82FN) 14-cylinder radial, air cooled engine.
Performance: Maximum speed 413 mph (665 km/h) at 16,447 ft (5000 m); service ceiling 35,435 ft (10800 m).
Range: 395 miles (635 km) on internal fuel.
Weight: Empty 5,816 lbs (2638 kg) with a maximum take-off weight of 7,496 lbs (3400 kg).
Dimensions: Span 32 ft 1 3/4 in (9.80 m); length 28 ft 2 1/2 in (8.60 m); height 8 ft 4 in (2.54 m); wing area 188.37 sq ft (17.50 sq m).
Armament: Three 20 mm Beresin B-20 (faster firing) ShVak cannon with 200 rounds per gun plus two 220 lbs (100 kg) bombs. Underwing racks could accept up to six RS-82 rockets.
Variants: La-7 (prototype and production), La-7UTI (two seat trainer), La-7R (equipped with booster rocket), La-7TK (improved high performance), La-126 (experimental).
Operators: Soviet Union.