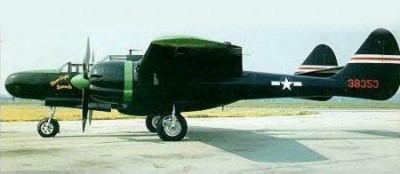 The P-61 was the first U.S. aircraft designed from the start to be a night fighter. By the time it arrived with combat squadrons in mid-1944, targets were rather scarce. Thus, while it didn't pile up a large score of enemy planes destroyed, it was an extremely capable and deadly aircraft.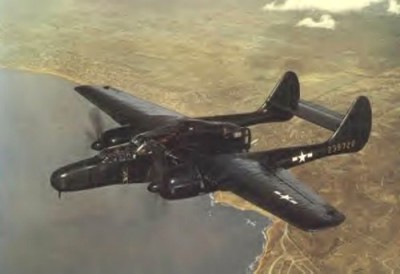 It originated in the Battle of Britain, when the British urgently needed a night fighter. Because early radars were so heavy and because the British requirement called for a night fighter that could stay airborne for a long time, only a twin-engined aircraft would work. Northrop began working on the project in late 1940. Northrop's proposal, submitted in November, followed the general outline of Lockheed's P-38: a big, twin-engined fighter, with crew and guns in the fuselage, and two engine nacelles extending back into twin booms connected by a long horizontal stabilizer. The armament was quite different though; the P-61 housed two dorsal turrets, each with four .50 calibre machine guns.
While there had been primitive efforts to develop night fighters since 1921, by 1940, radar promised to make them practical. The British had first developed Airborne Interception (AI) radar and also developed the cavity magnetron, which permitted short wavelength radars. Using a British cavity magnetron, by early 1941, engineers from MIT and several American electronics companies had built the first microwave radar, the forerunner of the SCR-270 used in the P-61.
Meanwhile, Northrop struggled with the P-61 aircraft, by far the biggest contract it had ever tackled. Meeting the Army's requirement for a three-man crew was one of many challenges faced by the design team. Throughout 1941, indeed throughout the entire war, required engineering changes continually cropped up, delaying the development of the P-61. Guns were relocated; fuel tanks were added; and control surfaces were redesigned. The first XP-61 prototype flew in May, 1942, with test pilot Vance Breese at the controls.
The second prototype flew that November and had radar installed in April, 1943.
Flights with the YP-61's revealed that the dorsal machine gun turret caused severe tail buffeting. Thus it was removed entirely from many early P-61A's, and when added back, only mounted two guns.

Service deliveries started in May, 1944, when the 348th Night Fighter Squadron (NFS) of the 481st Night Fighter Group (NFG) received their Black Widows. While the P-61 was exceptionally manoeuvrable for such a large plane (thanks to the large and well-designed flaps), it remained troublesome. In June, deliveries increased to three a day. The first P-61 kill was recorded on June 30, 1944 (some sources say July 6), when a Black Widow of the 6th NFS downed a 'Betty" bomber over the Pacific. In Europe, the crews continued training while debates raged over the night fighting virtues of the Black Widow, the Mosquito, and the Bristol Beaufighter.
Once the Black Widow did get into action in Europe, it found success against a variety of targets: fighter planes, bombers, V-1 buzz bombs, and ground targets like locomotives and truck convoys. Some ETO NF squadrons did not convert until spring of 1945, when the war was almost over. In the Pacific, the 418th and 421st NFS adopted the P-61 in mid-1944, and in the CBI, the 426th and 427th NFS transitioned to the P-61 later that year.
706 P-61's were built in total.
Specifications (Northrop P-61A Black Widow)
Type: Three Seat Night Fighter
Design: Northrop Aircraft Incorporated Design Team
Manufacturer: Northrop Aircraft Incorporated, Hawthorne California
Powerplant: (P-61A) Two 2,000 hp (1491 kW) Pratt & Whitney R-2800-10 Double Wasp 18-cylinder radial engines. (P-61B) Two 2,250 hp (1678 kW) Pratt & Whitney R-2800-65 Double Wasp 18-cylinder radial engines. (P-61C) Two 2,800 hp (2088 kW) Pratt & Whitney R-2800-73 Double Wasp 18-cylinder radial engines.
Performance: Maximum speed 369 mph (594 km/h) at 20,000 ft (6095 m); service ceiling 33,100 ft (10090 m); initial climb rate 2,200 ft (670 m) per minute.
Range: Range 1,000 miles (1609 km) on internal fuel or 1,900 miles (3058 km) with maximum external fuel.
Weight: Empty 20,965 lbs (9510 kg) with a maximum take-off weight of 32,400 lbs (14696 kg).
Dimensions: Span 66 ft 0 in (20.12 m); length 48 ft 11 in (14.91 m); height 14 ft 2 in (4.32 m); wing area 664 sq ft (61.69 sq m).
Armament: Four fixed 20 mm M-2 cannon in belly, firing ahead (plus in first 37 A, last 250 B and all C aircraft) electric dorsal turret with four 12.7 mm (0.50 in) machine guns remotely controlled from the front or rear sight station and fired by the pilot. (B and C) underwing racks for 6,400 lbs (2902 kg) of bombs or four 250 gallon fuel tanks. (F-15A) No armament.
Variants: XP-61 (prototype), YP-61 (service testing), P-61A, P-61B, P-61C, XP-61D, XP-61E, XF-15 Reporter (unarmed recon), XF-15A, F-15A Reporter, F2T-1N (naval designation).
Avionics: Standard communications and navigation equipment. SCR-720 AI radar on night fighters.
History: First flight (XP-61) 21 May 1942; service delivery (P-61A) May 1944; first flight (F-15A) 1946.
Operators: United States (USAAF & USN).