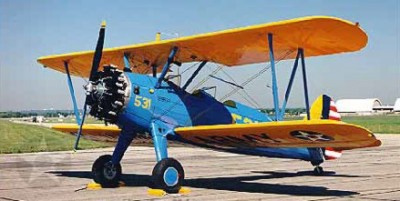 The PT-13 was typical of the biplane primary trainer used during the late 1930s and WW II. Whereas it was powered by a Lycoming engine, the same airplane with a Continental engine was designated the PT-17, and with a Jacobs engine, the PT-18. A later version which featured a cockpit canopy was designated the PT-27.
Of 10,346 Kaydets ordered for the U.S. and its Allies, 2,141 were PT-13s for the AAF. Following WW II, the Kaydet was phased out in favour of more modern trainers.
SPECIFICATIONS
Span: 32 ft. 2 in.
Length: 24 ft. 10 in.
Height: 9 ft. 2 in.
Weight: 2,717 lbs. loaded
Armament: None
Engine: Lycoming R-680 of 220 hp..
Cost: $11,000
PERFORMANCE
Maximum speed: 125 mph.
Cruising speed: 104 mph.
Range: 450 miles
Service Ceiling: 14,000 ft.