Export orders for the fixed landing gear variants included three for Honduras and 85 for China, together with one for Australia as a pattern aircraft for licence production by the Commonwealth Aircraft Corporation. Two pattern aircraft each were supplied to licence-holders ASJA (the aircraft department of AB Svenska Järnvägsverkstäderna or Swedish Railway Workshops Limited) of Sweden and Mitsubishi of Japan. The Swedish designation became Sk 14 intended as a Type II (advanced) trainer in the Swedish Air Force. France had taken 200 NA-57 basic trainers for the Armee de l'Air and 30 for the Aeronavale. Delivery of a similar repeat order for the NA-64 was in progress when France fell before the German advance and 119 undelivered aircraft were acquired by the United Kingdom and supplied to the Royal Canadian Air Force, becoming known as the Yale I.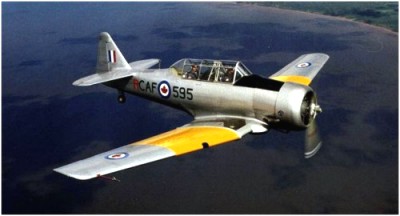 A North American Harvard Mk II of the Royal Canadian Air Force for use in the Air Training Plan
North American BC-1 Series
In 1937, the USAAC issued Circular Proposal 37-220, for a basic combat trainer, that had led to the development of the NA-26 with retractable landing gear, a 550 hp (410 kW) Pratt & Whitney R-1340-47 engine, armament and instrumentation representative of contemporary operational types. Evaluation of the prototype, still with rounded wing tips and rudder and with a fabric covered fuselage, resulted in USAAC orders totalling 177 BC-1s, of which 30 were modified as BC-1I instrument trainers. The last three were completed as BC-2s with R-1340-45 engines, three-blade propellers and the BT-9D/BT-14 wing, rudder and fuselage covering improvements. There followed 93 BC-1As with airframe revisions and a single BC-1B with a modified wing centre-section. The USAAC changed the role designations to advanced trainer, and subsequent production carried AT designations, the series commencing with 94 AT-6 Texans which included the last nine of the BC-1A order.
North American Harvard Series
British interest became evident in June 1938 when the British Purchasing Commission placed an order for 200 BC-1s with British equipment (radios/instruments), these being designated Harvard Mk I. On 3 December 1938, the first was delivered to the Aircraft Armament and Experimental Establishment at Martlesham Heath for acceptance testing before the type entered service at the Flying Training Schools, commencing with No. 3 Flying Training School in Grantham. The major part of this first batch was shipped to Southern Rhodesia, to equip the three Service Flying Training Schools established there as part of the British Commonwealth Air Training Plan, and the RAF retained most of the second batch, the original order having been doubled.
Thirty similar aircraft were purchased on behalf of the Royal Canadian Air Force and in 1939 the Purchasing Commission ordered 600 AT-6s, which were known as the Harvard II. 20 were delivered to the RAF, 67 to the Royal New Zealand Air Force and the rest to Canada where the Canadian government had agreed, under the Air Training Plan, to train 20,000 Commonwealth aircrew annually at 74 training schools, at least 14 of which had Harvards on strength. Total deliveries to Commonwealth air forces, mostly under Lend-Lease, exceeded 5,000. In addition to the Mk I and Mk II already mentioned, the Mks IIA, IIB and III were also used, these being equivalent to the AT-6C, AT-16 and AT-6D respectively. AT-16 was the designation given to 2,610 aircraft built by Noorduyn Aviation Ltd of Montreal, for the RAF and RCAF, these corresponding to USAAF AT-6As. In order to comply with neutrality laws, U.S. built Harvards were flown north to the border and pushed across into Canada.
In 1946 Noorduyn Aviation Limited was taken over by Canadian Car and Foundry Company Limited, which built 270 Harvard Mk IV trainers to the T-6G standard for the RCAF and 285 similar aircraft with the designation T-6J for the USAF Mutual Aid Program.
The colour "Mustard Yellow" was chosen for all training aircraft of the RCAF due its high contrast with the environment and considering the vast expanse of the Canadian wilderness, visibility was a major concern. The RAF used yellow on their training aircraft, but many combinations were used. The Americans had no set colour scheme for training aircraft, other than squadron standing orders, but green wing and fuselage bands did denote instrument trainers.
North American AT-6 / SNJ Texan Series
Replacement of the centre-section integral fuel tank by removable tanks and installation of the 550 hp (410 kW) Pratt & Whitney R-1340-49 Wasp 9-cylinder air-cooled radial engine produced the AT-6A, 517 of which were built at Inglewood before all production was transferred to Dallas, Texas where North American had already established a second line. Dallas-built aircraft to USAAF contracts included 1,330 AT-6As, 399 of the gunnery-trainer AT-6B version powered by a 600 hp (448 kW) Pratt & Whitney R-1340-AN-1 Wasp 9-cylinder air-cooled radial engine, 2,970 AT-6Cs, 3,404 AT-6Ds and 956 AT-9Fs. The AT-6C arose from the need to alleviate an anticipated shortage of light alloy and approximately 1,246 lbs (565 kg) per aircraft was saved by the use of other light metals, bonded plywood construction for the rear fuselage, and ply-covered tail surfaces. Although the AT-6D marked a return to all-metal construction, it also featured a 24-volt rather than a 12-volt electrical system, and the AT-6F had a redesigned rear fuselage and strengthened wings. A single aircraft (serial 42-84241) was refitted with high-altitude Ranger V-770 12-cylinder radial engine for testing and was designated XAT-6E.
US Navy procurement of these aircraft, which had commenced with the NJ-1, continued with 16 SNJ-1s which were equivalent to the US Army's BC-1 but with a metal-covered fuselage. Some 61 SNJ-2s with a variable-pitch propeller and 600 hp (448 kW) Pratt & Whitney R-1340-56 Wasp 9-cylinder air-cooled radial engine were built at Inglewood and 150 at Dallas. The AT-6C and -6D were manufactured at Dallas as the SNJ-4 and SNJ-5, production totalling 2,400 and 1,357 respectively. Some SNJ-5s were fitted with an arrester hook for deck-landing training and were designated SNJ-5C. Finally, 931 of the US Army's 956 AT-6Fs were actually procured on behalf of the US Navy, which used them as the SNJ-6.
Other overseas purchasers of retractable gear variants included Brazil, China and Venezuela, and many other air arms later received aircraft from surplus USAAF, RAF and RCAF stocks. In 1948, North American Texans still in USAF service were redesignated as T-6's when the AT, BT, and PT aircraft designations were abandoned. From 1949, 2,068 T-6s were remanufactured for the US Air Force and US Navy with a revised cockpit layout, an improved canopy, re-located aerial masts, a square-tipped propeller, F-51 (the new P-51 Mustang designation) type landing-gear and flap-actuating levers, and steerable tailwheel. They were designated T-6D and given new serial numbers. Some were converted to LT-6G standard for service in Korea from July 1950, operating with 6147th Tactical Air Control Squadron.
Canadian Car and Foundry Company Limited, which had taken over Noorduyn in 1946, manufactured 270 T-6G standard Harvard Mk IVs for the RCAF and 285 T-6Js for USAF Mutual Aid programmes.
Although designed as a basic training aircraft the T-6 would be used extensively in a number of other roles including: advanced trainer, fighter, interceptor, fighter-bomber, forward air control aircraft and counter-insurgency (COIN) aircraft. The Texan was widely exported and served with at least fifty-five air forces throughout the world. In civilian hands it was used as a pylon racer, sport aircraft, mail carrier, and even as an airliner. The Texan served in all three of the modern era conflicts (World War II, Korea, and Vietnam). The Texan also had seen action in dozens of smaller wars around the world including Algeria, the Congo, Biafra, the Middle East, the Israeli war of independence (1948) and throughout Latin America. Despite its impressive war record, the Texan is best known as a trainer credited with training a staggering 131,553 pilots, navigators, machine-gunners, radio operators and mechanics in Canada under the auspices of the British Commonwealth Air Training Program. The last British pilot to qualify in a Harvard finished training on 23 March 1955.
There were 17,096 Texans built by North American Aviation and by foreign companies that built the Texan under license. This figure does not count the aircraft that were re- manufactured from existing airframes, or aircraft that used T-6 technology (P-64, NA-50, Boomerang) as their basis. The Texan/Harvard was an outstanding advanced trainer. A good airplane to fly with near fighter like characteristics, but with enough quirks to keep a pilot attentive to the task at hand. Its been said that if you can handle a Texan/Harvard, you can fly anything.
SPECIFICATIONS
Span:
42 ft.
Length:
29 ft. 6 in.
Height:
10 ft. 10 in.
Weight:
5,617 lbs. loaded
Armament:
None (some AT-6s used for gunnery/bombing training)
Engine:
Pratt & Whitney R-1340 of 600 hp.
Cost:
$27,000